Opinions on Return to In-Person Learning
Parker Teachers Present Mixed Opinions on the Return to in-Person Learning
Lower and Intermediate School Spanish Teacher Karen Liszka begins each of her classes by asking her students how they are doing. She takes an informal thumb poll, asking students to give her a thumbs up if they are doing well, a thumbs down if they aren't, and anything in between to represent their current mood. Most days she can expect to get a majority of positive responses, but not this year. This year Liszka has been overwhelmed by the number of students who give her a thumbs down, showing that they aren't doing too well. "There have been a lot of physical changes," Liska said. "But it is hard to tell about the mental, emotional, and social changes that go on."
With JK-8th grade back in the building five days a week, Parker has had to greatly change the way school functions from previous years. Each day, when over 600 students and faculty enter the building, their temperatures are taken and they are required to answer various screening questions. In the Lower and Intermediate schools classes have shrunk from 18-20 students to less than ten. In the Middle school, students are taking classes in spaces such as the Kovler Library, gymnasiums, and the Diane and David B. Heller Auditorium. Teachers are balancing teaching to their students who are in-person and to those who are taking
classes virtually. Many can be seen wearing a microphone to amplify their voices in order to reach students who may be over 60 feet away from the front of the room. Over 500 students can be found social-distancing each day, sporting CDC approved face masks, and adapting to the new changes that come with attending school during the COVID-19 pandemic.
Junior and Senior Kindergarten students have three different learning options this year: to do a full day of in-person learning, all remote learning, or do half-days in person and the rest of the day from home. These kindergarten classes have been split in half, creating pods of eight to ten students who take classes apart from each other each day. Senior Kindergarten teacher Dana O'Brien teaches about half of her students in her classroom, the other half in a make- shift classroom in the cafeteria, and four students completely virtually. O'Brien has found herself running back and forth from each classroom space, teaching each lesson twice, and trying to be there at all times for each student.
All of the new protocols that Parker has put in place – the reduced class sizes, mask wearing, and social distancing – have been for the safety of the community, which O'Brien greatly appreciates. "I feel like all of the protocols are in place," O'Brien said.
"However, there is just that feeling that my life is in the hands of the families who send their kids in."
In the Parker middle school, classes look a bit different. Instead of reducing class sizes like the lower school has done, middle school students are taking classes with 18 students, but in unconventional spaces that satisfy the social distancing requirements. Students are taking class in atriums, science labs, various gyms, and hallways. Desks are spaced six feet apart, and each student is required to face forward, sitting at the same desk all day. Each middle school grade is broken down into four sections, much like prior years.
This year, the main difference is that students stay in the same classroom all day and their teachers come to them. Seventh Grade History Teacher and Department Co-Chair Anthony Shaker is among one of the many middle school teachers who has had to adapt to this new protocol. Instead of teaching from his room, Shaker must rotate between four different classroom spaces each day to teach his students. "Teaching is definitely a different kind of teaching than I have ever had to do before," Shaker said. "Before, I had my room and my technology. Kids came to me and I had so much more control over the environment."
In the middle school, students who
chose to do school remotely dial in to each of their sections classes, and view the lesson on Zoom through a webcam set up at the front of the room. Middle school teachers wear bluetooth earpieces to be able to communicate with their remote students, and must balance the students in front of them with the students who are online. "The farthest kid is probably over fifty feet away," Shaker said. "Whether it is eye contact or nodding, with the masks and with the distance, it is hard to make sure that you are connecting with all of the kids."
With all of the protocols in place and the lack of informal teacher-teacher and teacher-student interactions, many teachers feel like they are in an empty building each day. "I never realized how much I get from teachers popping in my room and just checking in," Shaker said. "That's gone, and it's really sad."
O'Brien is glad she is able to provide a safe learning environment for her students but has felt the weight that comes with teaching such young kids in such unique circumstances. "I think the kids are having a blast and are glad to be back. They are adapting to the new normal really well," O'Brien said. "I feel like for the teachers it is super exhausting. We are all running on empty for sure."
About the Writer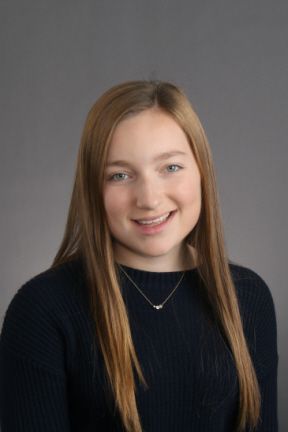 Lilly Satterfield, Culture Critic
Lilly Satterfield is a senior in her fourth year on "The Weekly." She is currently serving as a Culture Critic and has previously served as a Political...