"Art" on Zoom
Fall Play Performed On Zoom
Almost every afternoon for the past two months, high school Fall Play cast members have rehearsed "Art" by Yasmina Reza. Instead of stepping into the auditorium following their classes, cast members join the Fall Play Zoom call from their homes. 
The rehearsals are not the only part of the Fall Play on Zoom. Audience members joined a Zoom webinar to watch the Fall Play at 7 pm on Wednesday, October 28, the opening night. The play was also performed on Thursday, October 29 at 7 p.m. and will be 7 p.m. on Friday, October 30, and 3 p.m. on Saturday, October 31. 
"Art" by Yasmina Reza focuses on the conflicts between three friends after one buys a very expensive painting which is completely white. The friendship between Serge–who bought the painting–and Marc is strained, and Yvan is caught in the middle of the conflict. 
There are five cast members this year. The character of Marc is double cast and played by senior Spencer O'Brien and sophomore Kymari Hart, who plays a female version of the character named Marge. Serge is double cast and played by senior Grayson Schementi and junior Cece Lopez, who plays Serena, the female version of the character. Yvan, a nonbinary character, is played by senior Will Ehrlich.
Upper School drama teacher John Hildreth is the director of the Fall Play. Auditions for the Fall Play were held over Zoom on September 10. The auditioning students joined a Zoom call and stayed in the waiting room to be called in to audition. "Auditioning was probably the most similar because auditioning really is just sort of the same thing as on Zoom," O'Brien said. "You're just performing to Mr. Hildreth sitting on the other side of the room is what it would normally be except at this time it was a computer, so if anything, auditioning was a little easier."
"I thought that this would be a play that's suited to a virtual performance and suited to Parker because it's a small cast," Hildreth said. "It doesn't matter who enters what door or who's walking where, so it's really easy to simplify the movements to at home standing in front of their laptops."
The cast is working to use features on Zoom, like virtual backgrounds, as their set. Instead of having a stage crew, the actors use virtual backgrounds to change their setting. "I definitely think if there is a show to do on Zoom it would be Art," Ehrlich said. 
They have also had to work out other issues during rehearsals, such as the actor's internet connections breaking up and figuring out how to hand props to one another. The double casting of each character means that if one actor disconnects from the Zoom call, the other can take over. For props, there has to be two of each prop, one at each actor's house. During the play, the actors have to pretend to hand something over the computer, while the other actor grabs their own version of the prop. 
Lopez planned to do the Fall Play this year whether it was on Zoom or not. "I didn't think much about the fact that it would be on Zoom, but I suppose it is a fun challenge," Lopez said.  "It's a bit difficult to act without having someone right there with you to act with, so it's a challenge to just bounce off of their voice but I think it can be important to have experience in if I would ever want to pursue acting in the future."
Along with every other member of the cast, this will be O'Brien's first Zoom performance. "I've never done a Zoom performance before and I feel like that could very well be our future so I should probably try it out now," O'Brien said. "It's definitely not the same thing as being on stage or the same thing as being in the same room with other people, but I think that it is a good experience and something new."
Yvan is a nonbinary character because all of the other characters are double cast into male and female parts. "We have a female cast and male cast," Ehrlich said, "so we'd love to see some representation from characters who aren't male or female, so that comes in the form of Yvan. 
"Art" was chosen as the Fall Play after Hildreth heard one of his advisees talk about it last year. In most freshman English classes at Parker, "Art" is part of the curriculum. "It's kind of cool that people have heard about it," O'Brien said. I know the complaint is normally that the Fall Play is a little more obscure and maybe not traditional, but I kind of like that it's a fairly big name because it's in the curriculum."
 Ehrlich read "Art" during a musical theater summer program. "Exposing myself to the text before I was actually auditioning for the play really helped," Ehrlich said. "It helped how I as Yvonne interacted with the other characters and how I interpreted the scenarios I was put in."
The spring musical "Urinetown" was available as a video for people who were unable to watch opening night. Hildreth did not want to have a video for the Fall Play and instead chose to do a Zoom Webinar. "I think the whole exercise of a Fall Play is to put on a live performance," Hildreth said. "I know we could have gotten some cameras in there and made a film of a live performance, but I think it'll have the energy behind it of a live performance."
Although it was possible to do a recorded performance, Ehrlich is glad that they did not due to COVID-19 restrictions. "I really like doing it as a webinar instead of filming it because there would be a lot of restrictions as to what we could do live," Ehrlich said. "For example, all of us would have to be six feet apart, and we'd be very limited in the set because stagecraft can't get together and build a set because of social distancing guidelines."
Hildreth is glad he chose to produce the play on Zoom. "Every one of the performances will be slightly different due to what each actor brings each night, and I think that's exciting," Hildreth said. "And I think that's the real experience of the Fall Play, that's what I want the student actors to experience."
About the Writer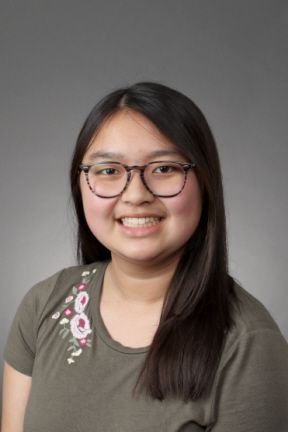 Emma Manley, News Editor
Emma Manley is a junior in her third year on the staff of "The Weekly." Currently, she is the News Editor. She previously served as as Brief Writer...