Windows Left Unpainted
Freshman Window Painting Postponed Due to COVID-19 Spike
On one December morning every year, students, parents, faculty, and staff walk into Parker and are greeted with freshly painted holiday windows that the freshman class and their families created the night before. This year, the Parker campus will be closed during December, and the windows will remain unpainted. 
The annual tradition was canceled after Parker moved to fully online learning due to a spike of COVID-19 cases in Illinois. Freshman students and grade heads decided to postpone window painting until April, though they will not be holiday themed. "As with most traditions, I think there will be a mixed response. Some families will be relieved that now they don't have to make a tough choice about whether or not to come in, and others will be upset that this tradition is not happening in the normal way," freshmen grade head Cory Zeller said.
"
It's a chance for the freshman class to give the school a gift, which is decorations for the holiday season."
— Cory Zeller
Before the announcement that Parker would close the building, grade chairs created four different options for window painting. Three of the options included in-person window painting in different ways, and the fourth included painting at home on Zoom and mailing the paintings in. All of these plans would have had the paintings on display at school for students, parents, and faculty to see. "It's a chance for the freshman class to give the school a gift, which is decorations for the holiday season," Zeller said.
After learning that window painting could not occur this holiday season, students had the opportunity to present ideas and vote during graderoom. One idea included delaying window painting until the next fall. Others included doing an event on Zoom where families painted on paper. Freshman Naomi Gross suggested having students paint at home on plexiglass instead of paper. "My grade heads were talking about the possibility of doing something on paper that got taped to the windows and while I liked the idea, I thought something like a clear sticker or plastic-type thing could make the experience more like we had imagined or remembered from previous years," Gross said. 
Students voted on whether to do window painting on Zoom or to postpone the event. According to Zeller, Zoom was not a popular choice. "They seemed less interested in another Zoom event," Zeller said. "We've been on it for so long, so anything virtual seems to be not very popular."
The idea ultimately chosen was to postpone window painting. Freshman Davu Hemphill Smith suggested having window painting in April. "I am very excited that they chose my idea because it allows us to continue the freshman tradition even though it's been delayed," Hemphill-Smith said. "I said that the window painting should be postponed to April because that is around National Window Day, and with a name like that, it was at the perfect time for window painting."
Planning for the window painting to run as usual had started before the school closure was announced. "There was a week where we actually thought we were doing it, and we had the paint delivered, and we were starting the process of assigning the windows," Zeller said. "And we did have students reach out to us whose families were uncomfortable with them coming into the building."
Illinois reached 10,000 cases of the coronavirus in November and is in Tier Three of the resurgence mitigation plan. In this tier, all non-household gatherings are not allowed. "It's upsetting because I was excited about it, but at the same time, I think we all understand that it's the safest choice with the cases spiking again," Gross said.
"
It's always nice to meet them and see the dynamic, like who's painting or ordering the other people around, so that I will miss."
— Cory Zeller
Usually, students bring in family members to help with their window and socialize with others. "I get to meet all of the freshmen parents and families and siblings and grandparents and babysitters, and it's really fun for me to get to see the bigger picture because I really only interact with students," Zeller said. "It's always nice to meet them and see the dynamic, like who's painting or ordering the other people around, so that I will miss."
Many students with older siblings have had the chance to do window painting during the normal time. Gross has attended two window paintings with her older sisters. "It's kind of sad since I was excited to have it be my year with my ideas, but I'm also grateful that I've been able to do it in the past," Gross said. 
Though window painting will not happen as it does every year, the freshmen and grade heads are still working to create a window painting event that will decorate the school. "The wonder and the amazement of coming in the next day and having it transformed overnight is really magical, so I hope we can still accomplish that," Zeller said. "I feel like what we need now more than ever is a little bit of magic and goodwill."
About the Writer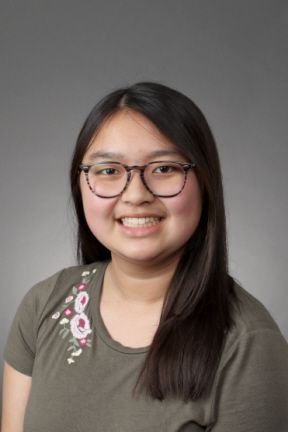 Emma Manley, News Editor
Emma Manley is a junior in her third year on the staff of "The Weekly." Currently, she is the News Editor. She previously served as as Brief Writer...