Wilkerson Enlightens
The author of "Caste" speaks at an event co-sponsored by Parker
"Essentially, a caste system is an artificial, arbitrary, graded ranking of human value in a society," Pulitzer Prize-winning author and journalist Isabel Wilkerson said. "It is what determines one's standing, respect, benefit of the doubt, access to resources or the denial of access to resources, assumptions of competence and intelligence, beauty and worthiness.
On Thursday, March 11, approximately 1400 students, faculty, parents, and other affiliates from 11 schools on different sides of the country logged onto a Zoom webinar. The purpose of the event was to hear from Wilkerson. In August 2020, Wilkerson published her new book, "Caste: The Origins of our Discontents", which has become a "Number 1 New York Times bestseller". 
Wilkerson is a former New York Times journalist and Chicago Bureau Chief. She won the Pulitzer Prize in feature writing in 1994, at the age of 33, for her individual reporting on Midwestern floods as well as a fourth-grader taking care of his siblings. She was the first black journalist to win a Pulitzer prize for individual reporting and the first black woman to win a Pulitzer Prize in any category. Wilkerson received the National Humanities Medal in 2015. 
Wilkerson published her first book, "The Warmth of Other Suns," in 2010, about America's Great Migration. It won the National Book Critics Circle Award for Nonfiction and was included on President Barack Obama's 2011 summer reading list.
The event on March 11 was titled "Grappling with the Persistence of Systemic Racism and Steps to Advance Equity", and was part of the New Roads School Critical Conversations Speaker Series in partnership with ten other schools. New Roads School is a private school in Santa Monica, California and all partnered schools are also in California with the exception of Parker in Chicago, Illinois, and Concord Academy in Concord, Massachusetts.
The older brother of Junior Kindergarten teacher Tisha Johnson is a board member and parent at New Roads School and together they thought that it would be valuable to create a connection between the two institutions. New Roads School has done a lot of work on antiracism curriculum, and Johnson identified that both Parker and New Roads School could benefit from cooperation on projects dealing with Diversity, Equity, and Inclusion (DEI). The first of these cooperative projects was the Isabel Wilkerson event. The Parker community can expect more coordinated initiatives and opportunities in the future.
Wilkerson began the event by explaining the main ideas of her book. She told the story of Martin Luther King jr. traveling to India in 1959. He had been inspired by Mohandas K. Gandhi's work in India for civil rights and his use of non-violent protest. In India, he visited a school and was called "a fellow Untouchable from the United States of America." Untouchables, or Dalits, are the lowest group of the Indian caste system.
King was originally uncomfortable and "he bristled," according to Wilkerson. He didn't see himself as an Untouchable. He was in the oppressed race group of the U.S. but had achieved quite a respected status. Wilkerson said that King contemplated the use of the word and began to understand that all of the repressive things that have happened to black people in the U.S. were part of the American caste system. "He said to himself," Wilkerson said, "I am an Untouchable. And every black person in the United States is an Untouchable too."
Johnson said she has spent the last decade engaging in Diversity, Equity, and Inclusion work. She has read a variety of books, attended conferences, and joined numerous discussion groups around relevant DEI topics and she identified history as the most compelling part of "Caste." Johnson also said that she found Wilkerson's work very approachable.
When reflecting on the event with Wilkerson, Johnson said that she appreciated and enjoyed Wilkerson's insight, and only wished it could have gone on for longer. "She was very thorough, and very invested, and very engaged," Johnson said.
Science Department Co-Chair and Seventh-Grade Science teacher, Angela Miklavcic Brandon said that Isabel Wilkerson has offered a "new framework for thinking about what's on many people's minds right now, as we talk about Diversity, Equity, and Inclusion, White Supremacy, racism," and she was hopeful that the new framework would help more people start to understand those topics in a more meaningful way.
Miklavcic read "The Warmth of Other Suns," years ago and she regards it as one of her favorite books. She was excited to read Wilkerson's new book and after hearing about a chance to hear her speak, Miklavcic "knew [she] wanted to participate."
Junior Tara Cochrane and her classmates were required to go to the Isabel Wilkerson event by their history teacher, Jeanne Barr. Cochrane said that Wilkerson had been "really interesting to listen to." As a half-Indian student, she appreciated Wilkerson's illustration of the connection between the treatment of BIPOC in US history and the treatment of lower castes in the caste system of India.
Cochrane brought up the value of hearing different perspectives, especially of people who have become experts in a certain topic. This educational luxury is partially provided by articles and books but in order to really engage with a new perspective, Cochrane thought that a live event was necessary. "I know no one likes to go to something that's required," she said, "but just sometimes it is a good thing to do because we do host some interesting people."
One week after the event, there was a chance for reflective discussion and deeper dialogue between attendees of the first event. Roughly 70 or 80 educators, parents, students, and others showed up to be split into breakout rooms of about five people each. Attendees had in-depth discussions framed around the questions that Wilkerson had been asked at the event a week before. 
Johnson explained that in the breakout rooms, it had initially been "awkward" trying to have a deep conversation with strangers, but after settling in and identifying everyone's perspectives, she was able to have a productive and meaningful discussion. "It's kind of scary," Johnson said, "but I think it's important and it's always great to hear other people's stories and experiences around DEI work both personally and professionally."
Miklavicic said that although she would be leaving Parker after this year, she hopes to use the ideas from "Caste," and have them inform future discussions at Parker. She and Seventh-Grade history teacher, Anthony Shaker, annually teach an identity unit that discusses many different facets of identity including race, gender, age, and ability. Miklavcic plans on talking to Shaker about how "Caste" and/or its teachings can be incorporated into the unit.
Miklavcic said that "Caste" could also be a good addition to Parker's efforts to give more parent offerings. Like other independent schools, Parker's student population is predominantly white and underrepresents BIPOC, which creates the need for a greater focus on teaching antiracism and other subjects that help students and community members be more aware.
Another school partnered with New Roads will host an event at some point in the future with Bettina Love, who recently authored the book, "We Want to Do More Than Survive." Johnson noted that some groups at Parker will be reading the book, somewhat coincidentally.
"Everyone needs to know the true history of what each group has contributed to this country," Wilkerson said as the final note of the event. "We're not getting the full picture and therefore we don't know how to process people as we come across them because we don't know the full history."
About the Writer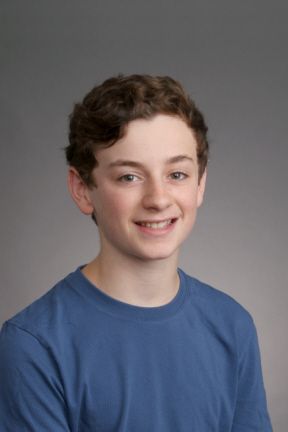 Harry Lowitz, Brief Writer
Harry Lowitz is a freshman in his first year on the staff of "The Weekly," and is delighted to be working as a brief writer. Outside of "The Weekly," Harry...