Chicago COVID-19 Protocol Update
New Delta variant endangers the safety of Chicago citizens
Chicago transitioned into Phase Five in June and several COVID-19 restrictions were lifted. All areas of the economy were permitted to reopen with new safety and health guidelines. Capacity and distance limits were revoked, allowing citizens to socialize in close proximity. As schools reopen, the Delta variant is now a concern and has altered the course of national COVID-19 recovery.
On June 11, Mayor Lori Lightfoot encouraged Chicago citizens to return to their sense of normalcy.
"Now it's time for you to get up, get out of the house this summer, and, fully and safely… enjoy the events of the best city on the planet," Lightfoot said in a news conference.
Since then, the variant has spread throughout the city, and despite this, large music festivals such as Lollapalooza and Summer Smash were held with little to no restrictions. Lollapalooza, the annual music festival held in Grant Parkwas canceled last year due to COVID-19 but made a comeback this summer, admitting over 100,000 people. An estimate of 203 new COVID-19 cases were linked to the festival.
"It felt very weird to be close to so many people at a time, but it was pretty amazing to experience the normalcy," junior Maddie Deutsch said. "In a way, it feels like COVID-19 hasn't happened."
Deutsch also spent her vacation working for Parker Summers–a summer camp held by Parker for lower and middle school students. Campers engage in outdoor activities while following COVID-19 guidelines. 
"Being sixteen, I've had so many opportunities before the pandemic restrictions started taking place," Deutsch said. "I wanted to make younger kids feel more normal and get back into having fun. The pandemic may be all they know right now."
Parker Summers has reopened, but the Delta Variant, initially detected in India last December, is spreading rapidly. The CDC said the variant is as contagious as chickenpox and can spread quicker than any other strain.
 Because of the variant and its effect on the city, a new indoor mask mandate was enforced on August 20. Additionally, Illinois Governor JB Pritzker enforced a mask mandate for schools. The CDC wrote on their website, "Given what we know about the Delta variant, vaccine effectiveness, and current vaccine coverage, layered prevention strategies, such as wearing masks, are needed to reduce the transmission of this variant."
According to city data, Chicago averaged at 419 new COVID-19 cases per day on August 16, more than triple the number reported on July 19, when the average was 132 new cases per day.  Despite this surge, Chicago's hospitalizations have decreased by 18% since the week of August 8, and deaths are down by 24%. 
The COVID-19 vaccine hasn't proven to be 100% protective against the variant. Several vaccinated people were recently diagnosed with cases of the variant. 
"Unfortunately, people who are vaccinated can get the Delta variant," Assistant Professor of Clinical Medicine at Northwestern Eric Terman, a member of Parker's Medical Subcommittee, said. "Generally, they have a relatively mild form. The mild form rarely causes someone to be hospitalized. So, a vast improvement compared to the unvaccinated state."
Additionally, Chief Medical Advisor to the President Anthony Fauci claims the unvaccinated continue to spread the virus to a more severe extent. 
"From the standpoint of illness, hospitalization, suffering and death, the unvaccinated are much more vulnerable because the vaccinated are protected from severe illness, for the most part,"  Fauci said in an interview with ABC news. "But when you look at the country as a whole and getting us back to normal, the unvaccinated, by not being vaccinated, are allowing the propagation and the spread of the outbreak which ultimately impacts everybody."
Gov. Pritzker has now mandated vaccines for teachers and some state employees in prisons, veteran homes, and other congregate facilities. These employees must be vaccinated by early October.
"The Delta variant is certainly a very contagious form of the COVID-19 virus," Terman said. "The vaccines are very beneficial at preventing death. I recommend it from a health perspective. Unless you have a medical reason to avoid it, you should absolutely get vaccinated. Period."
In terms of the travel advisory, Chicago added eight states and the District of Columbia on August 17 to their list of regions. The city recommends unvaccinated people traveling from those areas to test negative for COVID-19 and quarantine upon arrival. According to city data, 54.3% of the Chicago population is fully vaccinated. Upper School history teacher Kevin Conlon hopes Chicago's vaccination levels will increase.
"We're an international city, so people are coming in from around the country and around the world," Conlon said. "We're always open to risk. But, I think the vaccine level is going to be important to protect people."
The city of Chicago is now allowing anyone eligible to request a vaccination at home. People are able to choose between the Pfizer or Johnson & Johnson vaccines. Residents can call (312) 746-4835 to make an appointment.
"Our child is turning 12 soon. That might be something we could take advantage of," Conlon said. "This is good because they're promoting the vaccination."
Parker parents Niqoo Daftary-Parke and Jason Parke run The Art of Modern Dentistry in Chicago. The office specializes in cosmetic dentistry, implants, and inserting Invisalign. Business during the summer of 2021 has improved since last year. Daftary noted that in 2020, profits were cut by 50% since the influx of emergency patients, unable to pay full price, led to a lack in revenue. 
"We had to change our business," Parke said. "We did this by immediately changing our advertising and our online presence. All the other dental practices were closed, so we got dozens of emergency patients every single day who needed root canals, who needed extractions."
With the rising danger of the Delta variant, Daftary-Parke hopes a similar situation will not occur for her business and the city at large.
"I hope it will not get to that point," Daftary-Parke said. "I hope we will be smart enough to contain the virus this time around and not let it impact our lives, our businesses, and our economy the way it did."
About the Writer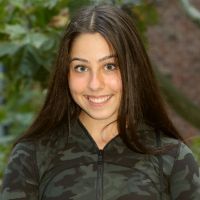 Alya Satchu, Opinions Editor
Alya Satchu is a junior in her third year on the staff of "The Weekly". Currently, she is the Opinions Editor and has previously served as a Copy Editor...