Back to McGrath
Parker Loses By One Point at First White Out Game Since 2019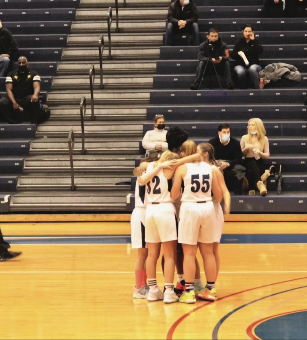 On Friday December 10, the Parker community gathered at the DePaul University McGrath-Phillips Arena wearing white to support the Boys and Girls Varsity Basketball Teams. Upon entering the stadium, the left side bleachers were filled with enthusiastic Parker fans. Parker's rivals, the Latin School of Chicago, wearing bright orange, took up the right side bleachers. Accessories were provided such as tattoos, visors, and beaded necklaces for Parker fans. The scene was set for Parker's annual White Out Game.
The last Parker White Out Game took place in 2019, before Chicago's COVID-19 lockdown in March 2020. Junior and Boys Varsity Captain Payton Pitts said he was "excited" because he hadn't played in the annual game since freshman year. 
"We need to stay focused and remember why we're here and how hard we've worked in training," Pitts said before the game.
The Boys Varsity Basketball Team lost a close match against Latin with a score of 67-68. Parker had been leading the whole game by 15 points, and the sudden loss shocked Parker fans. 
"The problem with us right now is team culture," senior and Boys Varsity captain Jackson Antonow said. "No reason we should be getting two technical fouls late in that game. That's on the captains and coaches." 
      In terms of personal skill, Antonow wants to improve his free throws and layups. Antonow was the night's top scorer, with 21 points, seven rebounds, and three assists. "Free throws like that can't be missed in a big game. Those add up."  
The Girls Varsity basketball team played against Josephinum Academy at 6:30 p.m. The team won by almost 20 points, with a score of 40-23. 
"I was nervous, but it ended up being a lot of fun," freshman Anna Swanson said. "Our team played very well. I think we can work a bit on understanding each play because they are super important."
Swanson noted that despite winning, the team has to continue working harder everyday to perfect their plays and avoid any mistakes. 
Before the game, Parker Athletic Director Bobby Starks sent out an email stating, "we hope the Parker community can support both teams tonight."
There is a notable difference in fan attendance between the girls and boys games. This issue has demanded attention from the Parker community for several years. A mere fraction of those in attendance after 7:30 pm were present at the girls varsity game. In Senate and within the Athletics Department, community discussions are examining how to increase support of the girls teams.
"There were way less people for the girls game," freshman Kate Greene said. "It was mostly just parents and faculty. The audience was triple the size for the boys game."
The boys team is looking to come back even stronger for the Blue Out game on January 27th. 
"Towards the end, the refs did make some questionable calls, but it is also on the team for making the game so close and being in that situation when those calls can change the game," Junior Caleb David, who had 10 points and four assists, said. "We lost the game from little things such as free throws, turnovers, and not being under control."
"We allowed Latin to control how we played at the end," David added. "We can improve on our shooting offensive plays, and reading the opposing teams defense. I can't wait for the Blue Out game."
About the Writer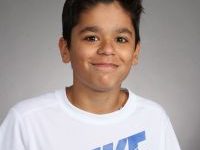 Mikhail Satchu, Staff Writer
 is a freshman serving in his first year in the Parker Weekly.  He will be a staff writer for this upcoming school year. He enjoys writing about sports, especially soccer and basketball, and is looking forward to his first year in the Weekly.