Executive Chef, Tim Kirker
Executive Chef Leads the Kitchen to Maintain a High-Quality Cafeteria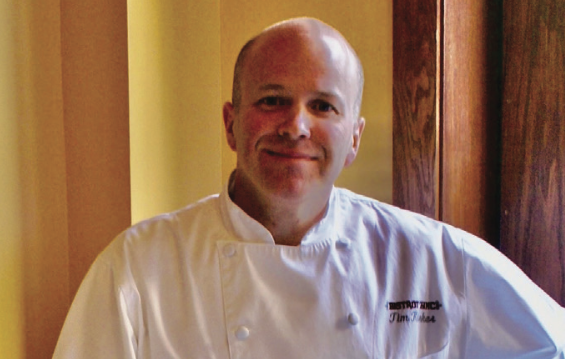 When students walk through the cafeteria—whether it's for breakfast, lunch, or a snack,—they are greeted by many familiar faces, from server Charla Hogan-Crawford while getting the food to lead cashier Keisha Henderson while paying. Executive Chef Tim Kirker, however, is one face that students might not know as well. 
While Kirker has a less obvious physical presence in the cafeteria, he has recently become vital to the success of Parker's cafeteria and the fresh, balanced food that it produces.
Kirker grew up in Brunswick, Maine, and earned a history degree from Carleton College. Later, after graduating from the Culinary Institute of America, Kirker worked at the Waldorf-Astoria, which was only the beginning of his career. He has succeeded in a variety of kitchens from coast to coast. 
For the bulk of the last 20 years, Kirker worked in Chicago as a chef and partner at Bistro Zinc, a small, private bistro. It eventually closed in 2018, but this led Kirker to find his place at Parker as Executive Chef in July 2021. 
While it has been short, Kirker has enjoyed the time he has spent so far at Parker. "It's an open kitchen," he said. 
Kirker helps this kitchen produce hot lunch, salads, noodle bowls, sandwiches, desserts, and the occasional overnight oat. His job as Executive Chef is to oversee the work being done behind the scenes in the kitchens, envision new meal ideas, and contribute to the kitchen in a hands-on way.
"I've been loving the variety in meals this year and totally feel like the cafeteria is always switching things up. In addition to the hot lunch options, I also find new things to eat from the coolers all the time," junior Annabelle Garelick, who runs the @cafcraves Instagram account, said. 
Kirker's favorite hot lunch is ramen, which includes both making it and eating it. "Ramen day was really fun. I got to make a stock, and I brought in chicken feet to make the stock really gelatinous," Kirker said. His favorite dessert is pretty much anything made by Bakery Lead Sue Griggs, though nothing can top his mother's apple pie. "One thing that I think is incredible is that you guys get fresh baked bagels, cookies, you name it," Kirker said. 
Growing up, Kirker went to a public school which served food that he said was not exciting. He also spent a couple years at a private school with food more similar to what is offered at Parker. "We had some exposure to some more fun food, and that's where I actually started getting interested in food," Kirker said. 
Kirker wishes he could have more interaction with the students, which was something that he experienced while working with one of Northwestern's dining halls. One way that they did this was by creating stations based on the type of food, and Kirker thinks this would be a great addition to Parker's cafeteria. 
The original blueprint of the cafeteria was made for a number of students far smaller than we have at school currently. Other than one recent renovation, there has been no major change to the size of the cafeteria. Due to this, space has been an issue which is part of what adds to the wait time for food.
Kirker has seen fast moving lines and slow moving lines, noticing that they typically move a lot quicker with meals that require fewer decisions, decisions that feel like life or death when a student finally reaches the front of the line. 
Kirker said grilled cheese day must have set a record, and he walked to the end of the line and found himself halfway through the science wing. 
Despite having a long line, the line for grilled cheese moved quickly. This line was fast paced because the only option the student had to make was whether or not they wanted soup and vegetables. If the student did want soup, it was already portioned out and ready to go. 
Kirker says that the line on ramen day typically moves slower. This is due to the fact that there are multiple decisions that come before you get the meal. Kirker learned that he should plan to serve meals like these on certain days where part of the school is absent, whether that is due to a parent-teacher conference day or a field trip. 
As this is Kirker's first semester at Parker, he has learned a lot that he will use as fuel to keep growing the kitchen during future semesters. While there have been challenges, such as a crowded cafeteria or a lack of student interaction, Kirker says that overall he has had a great experience.
"I'm happy to be here," Kirker said. "Parker has a good history of making you guys happy, so it's nice being a part of that."
About the Writer
Lucy Wrubel, Culture Critic, Copy Editor
Lucy Wrubel is a junior entering her second year on the staff of "The Weekly" as a culture critic and copy editor. Lucy also enjoys debate club, Parker sports, and spending time with her friends. She looks forward to continuing to write for the weekly this year!