Off To Alabama
Upperclassmen Embark On Civil Rights Tour Of Alabama
Atop a hill overlooking Montgomery, Ala., stands a candid depiction of violence and a space to reflect on historical horrors. Eight hundred and five steel monuments are suspended from the ceiling, each one representing a U.S. county where a lynching was documented. Walking through the hanging monuments which symbolize coffins, they rise higher and the floor descends lower. Upon reaching the end, they hang high above a waterfall, and observers are provided a space to think, reflect, and quietly discuss. 
The National Memorial of Peace and Social Justice is a space for honesty, reconciliation, and acknowledgment. Lying on the grass surrounding the memorial is a replica of each monument inside. If a county proves they have been working to undo injustice and pursue DEI initiatives, they can claim the monument. It will thus be memorialized and presented in their town hall. So far, no county has claimed one.
The memorial was a part of a civil rights field trip touring Alabama. The trip is an extension of Upper School history teacher Andrew Bigelow's Civil Rights class curricula. It's offered to Parker juniors and seniors from May 4 to May 7. It offers an in-depth exploration of the modern civil rights movement, and specifically how Alabama was involved in the U.S. Constitution's development of principles. The group made stops in Birmingham, Montgomery, Tuskegee, and Selma, all notable landmarks of history and struggle for civil rights. 
Part of the first stop in Birmingham was the Bethel Baptist Church. The church was home to nonviolent protests for civil rights during the 1950s and 60s. It played a pivotal role in the Freedom Rides in 1961 and the Birmingham battle for desegregation in 1963. The church was bombed by white supremacists three times in '50s and '60s. The original church was demolished. The site remains empty as a testament to the tragedy. A block away stands a new church where people can attend service and educate themselves on the civil rights movement. 
"That church was bombed all in an attempt to try and quiet people from expressing their civil rights and making a movement that was going to be helpful for the people," trip chaperone, Parker P.E. teacher, and Diversity, Equity and Inclusion Coordinator Terry Davis said. "It's a very historical church in that sense, it held meeting spaces and it was a place for people to gather and feel support and help one another."
That same day in Birmingham, students and chaperones met Dr. Reverend Carolyn McKinstry, a direct witness to the 16th Baptist Street Bombing on September 15, 1963. The direct attack by the Klu Klux Klan caused an explosion that killed four girls and injured several others. Dr. Martin Luther King Jr. described the event as "one of the most vicious and tragic crimes ever perpetrated against humanity." At the time, McKinstry, a teenager, worked in the building, and knew the girls that died. 
"She walked us through what it was like to be a victim of that violence and to see her friends perish and how she lived her life," Bigelow said. "I remember reading her book years ago. Little did I know we would get to meet her, and she was so wonderful in so many ways."
After touring Birmingham, students and chaperones traveled to Selma, Alabama. The group visited the Edmund Pettus Bridge where on March 7, 1965, John Lewis led over 600 marchers. The march was a nonviolent protest for the constitutional right to vote. Marchers were met and attacked by armed deputies. 
"For me it was instantly emotional," Davis said. "I can visualize people interlocking their hands and walking across that bridge. It was powerful. It was amazing to take that walk into history."
Students and chaperones then traveled a historic route from Selma to Montgomery. In Montgomery, the group visited various locations such as the Rosa Parks Museum and the Alabama State Capitol. In the afternoon, the group visited the home of Dr. Richard Harris Jr., a neighbor to Dr. King. When King was 26 years old, Harris, a pharmacist and former Tuskegee airmen, lived three doors down. Harris used his home to house many Freedom Riders after demonstrations. Specifically, the group met Harris's daughter, Dr. Valda H. Montgomery. 
 "We walked literally into her family home where they cook, eat, and sleep and met her whole family," Bigelow said. "She's telling the story about her dad and at the end, she told us that she actually was a part of SNCC (Student National Coordinating Committee). That was amazing. I remember [a student] just turning to me as she walked out and she went, 'that was awesome.'"
Senior Ruby Radis described the Harris house as "influential."
  "I was able to see a different side of the history that I don't normally learn about," Radis said. "That perspective really opened my eyes to how real the movement was at the time." 
After touring Montgomery, students traveled to their final location: Tuskegee. Students visited various museums and monuments, including the Freedom Rides Museum. It tells the story of the 1961 Freedom Rides: political protests against racial segregation, performed by riding busses throughout the American South. Davis described the "courage" of those who demonstrated as "impressive". 
"Life for me is about service," Davis said. "I think we have to serve other people, I think we have to give back, and I think we have to be an example for someone else. Those people set the standard. A lot of people lost their lives and it was sad and it was very hard to see. But, I am so grateful for the people that took on that challenge for freedom."
The trip, an educational experience, also provided a "positive" social environment, according to Radis. She "constantly found [herself] laughing" when students would spend time together after tours.
"It was a very unexpected group of students," Radis said. "We all became very close no matter what grade you were in or who you were friends with before. The trip bonded us in a different way."
As the trip concluded, students and chaperones faced unexpected flight problems. The group arrived at the airport a mere ten minutes before departure. Students and chaperones rushed to the terminal, but ended up missing all possible flights for that evening. That evening, students stayed overnight at the airport and left the following day, which happened to be Mother's Day. Davis used the experience as a lesson for students to respond to a tough situation, especially after learning about traumatic events. 
"We know life is hard and it's going to come with challenges and difficulties and you've got to be able to make adjustments," Davis said. "This here is just a fork in the road, things happen for a reason in my opinion. It was a good moment for the students to pivot and to handle adversity."
About the Writer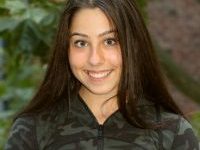 Alya Satchu, Opinions Editor
Alya Satchu is a junior in her third year on the staff of "The Weekly". Currently, she is the Opinions Editor and has previously served as a Copy Editor and Staff Writer. Outside of the newspaper, Alya is a student athlete and takes part in several clubs.