Reproductive Justice Club
Upper School Students Form a Club To Fight For Reproductive Rights
On May 2, 2022, a draft opinion by Supreme Court Justice Samuel Alito was leaked. It stated that the court planned to overturn the Roe v. Wade decision which protected a woman's right to abortion. In the wake of the release, Parker students Eden Stranahan and Sadie Gallagher, along with Upper School history teacher Jeanne Barr, founded the Reproductive Justice Club (RJC). 
Last year, the club initially came into being when seniors Eden Stranahan and Sadie Gallagher were assigned the Women's Issues Civic Lab group, an activity for juniors to engage more with the community. "Eden and I, the two creators of the club, were in the same Civic Lab, and we thought it would be cool if we made a club off of this. Then truthfully, we kind of forgot about it until the rumors about Roe V. Wade being overturned made us think that we should actually do that," senior Sadie Gallagher said.
The first club activity was to attend a Saturday rally by Planned Parenthood. "Our first club activity was one Saturday morning at like 8 a.m.. We went very far south to the Planned Parenthood of Illinois abortion rights rally slash march type thing," Barr said. "There were some super-memorable moments of feeling solidarity with womankind, and we passed over the Kennedy and all the truckers were honking for us. There were people from all across the country, so we really had that moment of feeling like we were touching the whole country by showing up and holding our signs." 
"It was a really cool environment. It was not the normal event that a Parker club holds, and I am glad that we actually followed through and did it," junior Natalie Drake, who attended the rally, said. "Ms. Barr did a really good job sponsoring it, and the speakers were really interesting. I was really glad I went."
On June 24, the Supreme Court overturned Roe v. Wade, giving states the choice to take away a long-considered fundamental right for women in the United States. The aftermath sparked protests and outrage from communities, as laws effectively removed legal abortion in many states. "If the leak was the earthquake, then the decision was the asteroid," Barr said.
However, many State Supreme Courts in conservative areas have begun challenging the laws preventing legal abortion as unconstitutional and are preventing them from becoming effective until the court cases are settled."You can't just take away rights after 50 years of having them," Gallagher said.
For individuals who live in states where abortion is considered a crime, they now have to travel hundreds of miles to receive this medical treatment legally, a trip which is not feasible. "For many, the closest clinic is four hours away, and they can't afford gas or taking the time off work," Gallagher said. 
Illinois remains one of the few states where abortion remains legal, even passing a comprehensive bill protecting abortion in the state. However, with so many of Illinois' neighbors outlawing abortion, clinics are already experiencing more demand than they can handle as people enter Illinois from these neighbor states in order to get the procedure done.
 "Because we are in one of those cities where thousands and thousands of people are coming over the borders from places like Indiana and Wisconsin, which now have more strict abortion laws," Drake said. "We've become kind of a sanctuary for a lot of people who need those services, and we need to build up our programs as much as possible so we can support those people."
Barr described plans to make handmaid's gowns. "We're thinking of making handmaid's gowns, which are a trope from Margaret Atwood's "The Handmaid's Tale" which really speaks to a dystopian future in which abortion has been criminalized, and women are forced into pregnancies," she said. "The gowns have become symbolic, and they're huge. Now women go to marches and wear them, and I was passing by the library and saw the sewing machines and thought we could do this." 
When asked what she wanted to see in the future, Drake said, "I particularly would be interested in more kinds of fundraising and political action, whether that's more marches or writing letters to senators." Gallagher said about other goals of the club. "Another thing is that a lot of the members we got to sign up are girls, and I think a huge part of this and all things is that it can only be the affected group advocating. So I would like to see maybe some other genders come." 
"As an individual doing something doesn't really do much for the cause," Gallagher said in summary. "That's why we started the club. If I just volunteer for planned parenthood, then sure, I can write it on my college resume, but it's not actually making change in the long run. Individuals need to come together and do it."
About the Writer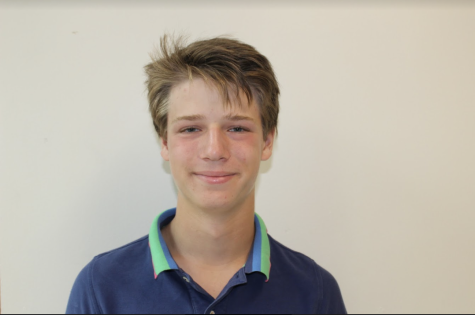 Beckett Nikitas, Copy Editor
Beckett Nikitas is a sophomore Copy Editor in his second year writing for "The Weekly." When not writing, Beckett is a member of the Underwater Robotics Team, Model UN, and Scholastic bowl. Outside of school Beckett enjoys Film production, Skiing, and Wake Surfing. He Looks forward to an exciting and informative year of writing for "The Weekly."