Colonel in The Capitol
Kyle Feitler serves as Senate Page for first semester
When the rest of the junior class was putting on their sweatpants and jeans to get ready to return to Parker on September 7, one student was instead putting on his suit and tie to get ready to go into the US Capitol.
For the first semester of this school year, junior Kyle Feitler served as Senate page under Illinois Senator Dick Durbin. The program was about five months, which is 150 days with some breaks throughout. 
The Senate Page Program has been around since Senators first started inviting kids to assist in the capitol in the 19th century. Over time it has become a more robust program with a residence hall and a school, welcoming 30 senate pages at a time, but 26 while Feitler was there.
He spent most days waking up at 4:45 to go to school and then spending hours assisting at the Capitol. The pages were tasked with getting documents and schedules to the Senators' desks.
Feitler's dad was a Senate page and had told him a lot about the program over the years, and so Feitler decided to apply. The application included an essay, a teacher recommendation, and Feitler's transcript, and then he was interviewed by Durbin's Chief of Staff.
Feitler heard that he was accepted a year after sending in his application and only two weeks before he would begin being a Senate page. "I wasn't sure I wanted to do it," Feitler said. However, after talking to friends, family, and teachers, he was compelled to take this opportunity.
Upper School history teacher Dan Greenstone wrote Feitler a recommendation when he was applying and encouraged him to accept the offer. "I was like: 'Don't miss this opportunity. Parker's gonna be here when you get back.'" he said. "Now he's back, he's in my class, and he said it was incredible."
Junior Wells Gjerlow also consulted Feitler on whether or not to go to Washington. "I weighed out the pros and the cons. On the cons side, there'd be no Kyle, but on the pros side he's going to be living his best life, capitol-ing up," he said.
Surely enough, two weeks later, Feitler boarded his flight to Washington. He lived in the Daniel Webster Senate Page residence which is two minutes from the Dirksen Senate office building and five minutes from the capitol. After moving in and meeting the program staff, the pages were brought to the Senate floor when they first got a sense of how intense the program would be.
Later that day, the pages met again with program staff. "They started being really strict," Feitler said. "Two people came in late and they started screaming at them." The pages were given chores and stringent rules to abide by. Feitler said the strictness did not loosen up until the last week.
According to Feitler, what excited him most about the program was the chance to spend so much time around "all these people we see on TV, that don't seem real." Also, he said it was interesting to see how the Senate and Capitol actually function and what their rules are.
Feitler got the chance to work with and meet many high profile government officials while in Washington, including seeing all 100 senators almost every day. Feitler also was present at the inauguration for the 118th Senate where he saw the vice president.
According to Feitler, the pages had incredibly exclusive access to the capitol building. "In many ways, we had more access than members of the House of Representatives and in some places, more access than the actual Senators," he said.
His peers in the page program hailed from all around the country. "Four of my closest friends are from all over the country: Oklahoma, Colorado, and Alabama," Feitler said.
While not in school or in the capitol, Feitler and his friends got to enjoy Washington. He said they went out for dinner together almost every night. Also, for eight weeks of his time in Washington, the Senate was in recess and he was free after 4:00 p.m. each day.
Feitler did not have his phone with him. "I was definitely fully detached," he said. "I didn't really know what was going on here for five months."
In addition to Feitler feeling detached from Parker, Feitler's peers at Parker felt sorely detached from him. "I felt like the whole school got dimmer," Gjerlow said about Feitler's absence.
Feitler said that he would recommend the page program to other high schoolers but they must be ready for a challenge. Dealing with the strictness and intensity for months at a time was stressful.
Greenstone said he hoped other Parker students would also look into opportunities to go beyond the walls of Parker. "Any chance you get to broaden your experience, meet new people of different backgrounds, I always encourage it," he said. "So I'm glad Kyle did it, and I hope other students follow in his footsteps."
About the Writer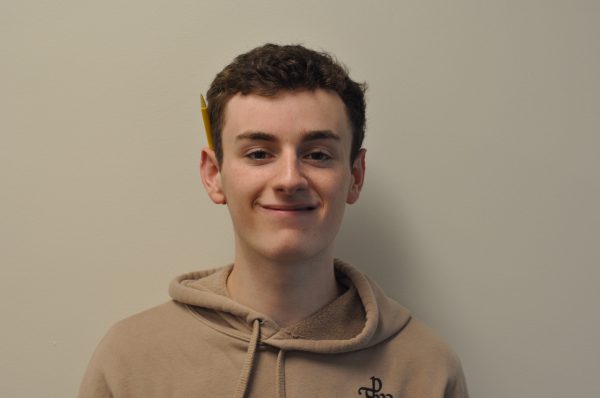 Harry Lowitz, Editor-in-Chief
Harry Lowitz is a senior who is animated to be in his second year as Editor-in-Chief, and fourth year on "The Weekly." Outside of the "The Weekly," he is the DCA in Student Government and a member of the Second City Teen Ensemble. Harry's favorite journalism movie is "All The President's Men." Inspired by the film, he hopes to break into the college counseling office to hide listening devices. Perhaps, after that, he will swing by the Parker Democrats.