The Reflection of Student Passion
Parker Students Use Jobs to Determine Career Path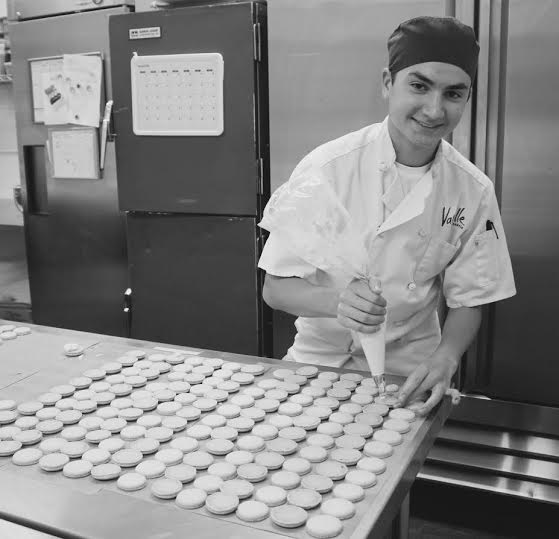 Drafting political policies, baking and frosting colorful pastries, reading and writing with High Jump students — these are a few of the jobs of Upper School students. According to a recent poll of 39 Upper School students, slightly less than half have jobs. These students are working not for the income, generally, but for fun and education.
Junior Charlie Roth seeks to prepare for a political career by working for a political consultant group called LBH Chicago. Roth spends his workday helping elected officials with their reelection campaigns and their day-to-day operations, such as getting their coffee and printing their papers.
"I want to get into policy-making or something with politics," Roth said. "I am really interested in how the city works."
Roth looks forward to his job every day because he enjoys working with people and making their lives easier. His goal is to make their interactions with city government more memorable.
Like Roth, sophomore Danny Sickle uses his job at Lincoln Park bakery Vanille Patisserie to develop his passions. Working at Vanille has allowed Sickle to strengthen his love for food and his commitment to the service industry. He has been working at Vanille for over eighteen months, baking and preparing orders for events such as their annual booth at the Chicago Gourmet Festival.
"There are times where I try a new recipe," Sickle said, "and it's fun for me, and I would do it for free."
Sickle notes that working at Vanille has actually shifted his career interests. When he started working at Vanille, he thought he wanted to be in the food industry, but, as his time at Vanille progressed, he saw it as more of a job than play.
"I don't want to be on my feet ten hours a day and make nothing," Sickle said. "There are only a few people who are successful in the food industry. With hospitality, you work with food and hotels, but it's not just food and being part of a factory line."
Even though jobs have the power to strengthen and shift passions, discussion about jobs among students has been minimal —  inside and outside of the classroom .
Upper School English teacher Cory Zeller notices that students are doing more internships and summer programs than paying jobs.
"Growing up, I worked at a fast food restaurant, and the Gap, and scooped ice cream, which were just paying jobs for money," Zeller said. "I don't see Parker students doing that as much."
Zeller believes that students are enriching their lives by investing in internships and summer programs. She encourages them to go into a work environment to observe daily life in their areas of interest.
Dean of Students Edward Amos is creating such opportunities for Upper School students through an internship program that he plans to cover a wide range of careers. He is currently working with Assistant Principal Ruth Jurgensen and Director of Human Resources Laureen Sweers to start the program by this summer. Amos plans to release more information about the internship program at the beginning of second semester.
Sophomore Jordan Shapiro is looking forward to being involved. "I think that the internship program will add to the career culture at Parker," Shapiro said, "just because it would give students easier access to an internship instead of going out on their own."
Through Amos's internship program, students will also be able to explore the city, according to Zeller. "There is so much industry, especially in business, law, and medicine," Zeller said. "I think it would be great to get kids involved."