Civic Lab is a year-long program for juniors, designed to study marginalized groups and how current marginalization reflects patterns in American history. This program challenges students to discover what they can do to fight injustice, solve inequity, and work to achieve social justice. 
Students are able to participate in various groups that focus on topics such as LGBTQ+ rights, immigration, disability rights, drug policy, women's issues, and environmental justice. At the end of the year, each Civic Lab group gives a culminating presentation about what they have learned and done pertaining to their topic. 
The juniors recently had their first of five civic lab field work days, and each of the different groups began to learn about their specialized issue and got involved in taking action to help fight against marginalization and injustice. Here is what people should know about what each Civic Lab group is doing this year. 
Creating Alliances
Upper School history teacher, Andrew Bigelow, is the faculty sponsor for Creating Alliances, a group that educates folks to become advocates for human rights for the LGBTQ+ community. 
For the first field work day, the group visited the Broadway Youth Center which is part of the Howard Brown Health Clinic and is designed for primarily homeless youth between the ages of 14 and 24. 
"It is an incredible resource center that provides kids in need of support with a place for them to get a warm meal, to use a computer to get some work done or unwind, or even to get clothes for a job interview," Bigelow said. 
The group then went to the Center on Halsted, a community center designed for LGBTQ+ folks. 
For their next field work days, Creating Alliances is going to see Equality Illinois, an organization that focuses on civil rights within the state of Illinois. They support lobbies for legislation to protect our LGBTQ+ folks all over the state. The group will also go to the American Civil Liberties Union (ACLU) to learn about their work and find out about what they do to protect human rights for a variety of groups of people. 
Immigration Justice
Upper School English teacher Matt Laufer is the faculty sponsor for Immigration Justice. For their first field work day, the group attended online immigration court and were able to see a number of court cases come through the judge. 
"We got shepherded through it by this gentleman that works for an organization called Court Watch that brings in people like us to stand as witnesses to the event and ensure that folks care and are paying attention to these issues," Laufer said. 
After that, the group went over to St. Paul's Church on Fullerton. The church  houses migrant families, and students met with the organizers of that effort along with one of those families. "It was nice to be able to talk to the migrant families first-hand and get a better understanding of their experience," Scarlett Koenig, a member of the Immigration Civic Lab, said.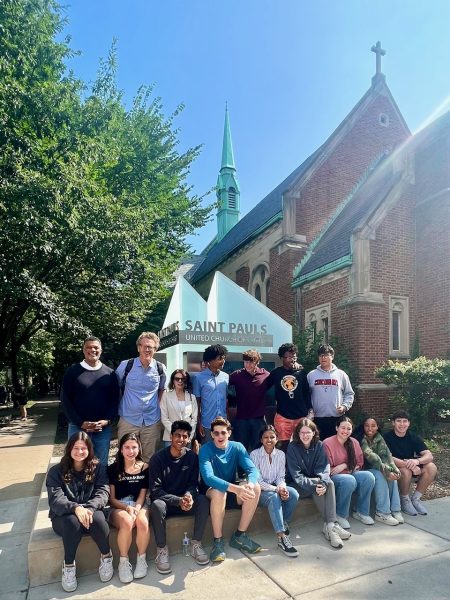 In the future, the group is planning to go to Steppenwolf to see a play called Sanctuary City and get to meet with lawyers and professors at Northwestern who work in immigration law.
 "We may follow up with St. Paul's and work on behalf of those families, the last of which are about to transition to more permanent housing from the basement of the church," Laufer said. 
"Since Chicago these days is a real hub for migrants as a sanctuary city, I wanted to lead this Civic Lab because it is incredibly crucial and salient," Laufer said. "Also, both my father and my grandfather were immigrants, so there is lots of appreciation for immigration justice in my family and a real awareness of how immigration is full of challenges and opportunities."
Civic Lab has undergone changes over the years. "In my opinion, Civic Lab has shrunk too much," Laufer said. "It used to be more extensive and curricular, and it was a big part of the junior retreat. But I do think that it has been steadily successful, and the real secret to its success is that the teachers are super-passionate about their topics." 
Environmental Justice
Upper School history teacher Susan Elliott is the faculty sponsor for the Environmental Justice Civic Lab. For their first field work day, the group went to a place called SCARCE in Addison, Illinois where they helped break down items to be recycled and found ways for items to be repurposed for SCARCE's recycling center.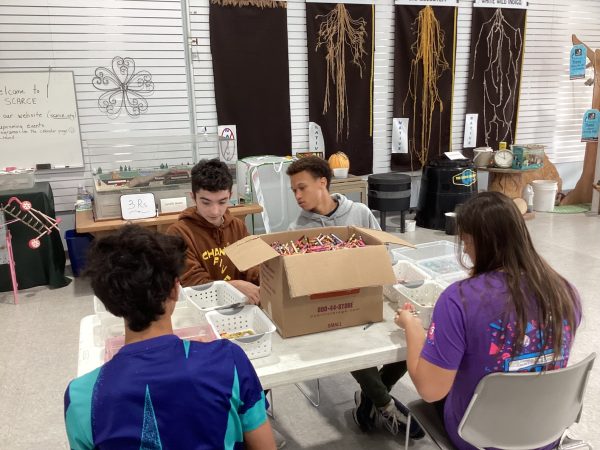 Elliott's approach to studying environmental justice is hands-on. "It can be kind of overwhelming how many negative developments there are in relation to it," Elliott said. "By doing something tangible, it makes you feel a little bit better about things." 
Elliott's interest in leading Environmental Justice is a result of her exposure to environmental justice issues given that her husband is an ecologist. "When I moved to Chicago, I met a lot of scientists in Chicago that are engaged in environmental justice issues, and it just made sense that I led this group," she said. 
Civic lab programming is currently limited to the junior class. "It would be lovely if it was beyond the eleventh grade," Elliot said. "There are some ideas percolating about setting aside time for students to go out into the community and do civic engagement in some way, shape, or form," she said. "I think those ideas are going to mature like something akin to Cookies, but for civic engagement, where students choose what they'd like to learn about and get involved in, and then spend time on that issue."
Disability Rights 
Upper School English teacher Mike Mahany is the faculty sponsor for the Disability Rights Civic Lab. For their first field work day, the group worked with PACCT in Rogers Park, a school for autistic students from ages 7 to 22. The group works in PACTT's classrooms as classroom aides and help with field trips around the neighborhood. The Disability Rights Civic Lab group also studied the history of disability rights, such as the Americans with Disabilities Act (ADA), as well as learned about what activists do now to try and take action on behalf of the people. 
This group has expanded in the past few years to provide students with a history of disability rights. "I know I never learned about disability rights in school, and I think it is important that students gain this crucial knowledge," Mahany said. 
"I was excited about leading this group because it was more of an action-oriented group," Mahany said. "It's not just about bringing in speakers, which I still think is important, but also about creating tangible relationships with students."
Students for Sensible Drug Policy 
Upper School history teacher Jeanne Barr is the faculty sponsor for the Students for Sensible Drug Policy (SSDP) Civic Lab. There is also an SSDP 2.4, a group of seniors who were in SSDP last year and are carrying on their project to get the Alderman of the 43rd Ward, Timmy Knudsen, to make Narcan available in his ward office.
The group started with an exploration of the legal distinctions between medical cannabis at the state and federal levels. "There's a big gap in policy since there are 39 states in the union right now that allow medical cannabis, and the Federal Government still schedules it as a highly addictive substance with no currently acceptable medical use," Barr said.  
Barr uses this exploration as a way to introduce the policy questions and to show that the drug war happens at all levels of policy from international policy, federal policy, state policy and local policy to school policies. "A lot of these policies aren't very well thought through and are based on stigma, stereotypes, and a lot of racism," Barr said. "We are really preliminarily investigating what that policy looks like and what some of the gaps, hypocrisy, and real problems are with the current status." 
The group plans on visiting a needle exchange, and the Chicago Recovery Alliance which leads the group to the opioid epidemic. SSDP studies three different strands. They learn about medical cannabis, the opioid epidemic, and mass incarceration.   
"Part of my goal is also to teach about the people who were discriminated against and had their lives ruined by drug policies," Barr said. "Drug users remain some of the most marginalized people. For drug users, there's a stigma where people think of them as people who chose their marginalization and people who should be able to control themselves. There's not a recognition of disease and addiction, and so there's a lot of tragedies that are occurring as a result of that."
Barr's personal connections to a good friend of hers who overdosed was what led her to leading SSDP. "I didn't even know that she was using opioids, she was really secretive about it, and it really struck me that the stigma around drug use killed her," Barr said. "You know, had she been able to be open about what she was coping with and find help, we could have saved her, and that hit me really personally."
"I was very young when that happened, so I got interested in drug policy, and then I figured out how racist it was, and that's what really drove me to become an activist in the arena," she said."Not only was there ongoing stigma that was ruining people's opportunities, but that it was racist, biased and discriminatory. I felt as a child of the 60s and 70s, I needed to do something about that, and my activism I do for my students."
Women's Issues
Bridget Walsh and Alicia Abood are the faculty advisors for the Women's Issues Civic Lab group. For their first field work day, the group focused mainly on discussion. For future field work days they plan on having speakers come in to talk to the students.
 "I chose to be in [the Women's Issues] Civic Lab group because I am and have always been interested in women's rights and inclusion," Harper Horn said. "I wanted to expand my knowledge on this topic, so I can use it for the future."
The coronavirus impacted Civic Lab programming in 2020, forcing the program online and stopping students from the active field work days. 
For Elliott's group, many of the organizations she worked with prior to COVID-19 dissolved because they couldn't keep their doors open as a result of the economic burden caused by COVID-19. "After COVID, I had to make all new connections with different organizations and revamp everything," Elliott said.
"Thankfully, COVID did not kill the program," Bigelow said. "People started opening their doors again, and we are now able to use the city as our classroom again."