A Video A Day
Senior Alex Loma Creates Vlog Series
First invented in 1983, the Internet is a host to virtually everything that humans learn about and use for information. Among the articles about current events and videos of cats playing the piano, one can find a sector of videos, entitled "vlogs," that contain footage of individuals doing daily activities they want to share with the rest of the world. One of these vloggers on YouTube is senior Alex Loma.
Loma began filming his vlogs at Parker during his breaks and got his inspiration from vlogger David Dobrik when he began to watch Dobrik's vlogs. "I started watching them a lot at times, a while ago," Loma said, "so for whatever reason, I just came up with the idea, 'oh, so, maybe I want to try out vlogging a bit, see how that goes.'"
After watching Dobrik's vlogs, Loma used that inspiration to begin a vlogging channel of his own. "Since I was in video doc class with Mr. Chandler, he let me borrow the camera, and then I just started doing some vlogs," Loma said. While the vlogs were not a requirement for Loma's class, he did use a couple of techniques for filming in order to record his videos.
Loma enjoyed the process of creating vlogs. "I kinda liked it, being able to film what I was doing on a daily basis, and being able to record it," Loma said. "I really enjoyed doing it and also being able to edit and do so much stuff in post-production."
In Video Documentary class, students like Loma were able to create videos with the help of Visual Arts and Graphic Design Teacher Travis Chander. Chandler feels that there were a few ways that Loma was able to begin his vlog series, thanks to his class. "I think, having access to good tools, and having a scenario in which you can share your work with other people and get good feedback," Chandler said, "is helpful for any artist who is trying to increase their skills."
For the most part, Loma plans out time to record his vlogs. "I try to make some sort of schedule and say, 'oh, maybe I want to do certain days,'" Loma said. "There are some points where I start filming just for the heck of it, and sometimes I'll be able to get some pretty cool stuff, and there will be, often times, where something hilarious happens, some crazy stuff happens, but I'm not filming."
Loma's first video starts out with him and a fellow Parker student having a quick conversation at the 4th-floor tables, right before the screen cuts to a black title page with the words, "Alex Loma Vlog #1 Dec. 11. 2018." The first minute of the video entails Loma, and a few of his friends off-camera, talking, watching each other jokingly dance into the camera, and discussing candies that Loma has brought with him.
The entirety of the video is of Loma and his friends talking, eating candy, and filming others as they pass his table for 3 minutes and 46 seconds. The vlog closes with him asking a friend if they want some Nerds candies, and then tossing the box at her before the camera finishes recording.
Often assisting Loma often is his friend senior Christian Navas. "My friend, Christian Navas, he's really good with the camera," Loma said. "He's really good with photography, he's pretty amazing with that type of stuff, so he has helped me a lot."
Navas helps a lot, and also gave an explanation of how Loma's vlogs became a reality. "I mean, he really did start doing it cause it was kind of like a joke," Navas said. "He borrowed a camera from Mr. Chandler, and then he decided to vlog one of the days that he had it, just messing around with the camera, and then he started making vlogs."
Navas has previous experience with filming videos and used that to assist Loma in his own videos. "I make videos and stuff like that, and I also had a camera from Mr. Chandler," Navas said, "and so whenever we did stuff, I'd also bring along my camera, and then I would just film stuff too."
While Loma is still beginning his vlogging journey, Navas feels that his vlogs have progressed as Loma kept filming. "The first video was him just sitting there and goofing off, and his most recent video was us at Walmart," Navas said. "It progressed, but overall, basically copying David Dobrik, just trying to get into shenanigans."
Speaking to media sharing in general, Chandler feels that there are different results of the constant posting. "I think that we're in an era, where people are obsessed with sharing," Chandler said, "and that can be wonderful and extremely inspiring, all the way down to frustrating and unwatchable."
While not everyone is able to create a vlogging channel themselves, Chandler still has a piece of advice for those who wish to continue with this activity. "Story is paramount whenever possible, and characters make for great stories," Chandler said.
Although the vlogs are mostly happening at Parker, Loma does believe that he will continue with these in the future. "Once I get a job, and it would raise enough money, then I'm pretty sure I'll be able to buy a camera," Loma said on continuing his vlogging hobby. "Once I'm off to college, I may do something similar, and probably still be posting."
About the Writer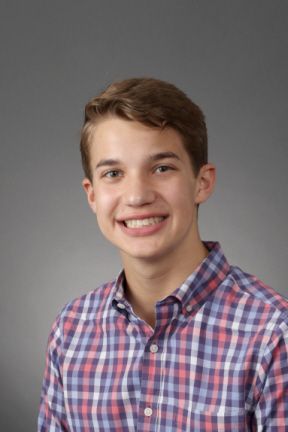 Zach Joseph, Editor-in-Chief
Zach Joseph is a senior in his fourth year on the staff of "The Weekly," and is ecstatic to be serving as an Editor-in-Chief for the 110th year of "The...