No More Novick
Head of Intermediate and Middle Schools To Leave Parker in July
Editor's Note: After this article went to print, Principal Dan Frank announced via email that current Head of Upper School Justin Brandon will also exit Parker in July 2021, leaving three vacancies within the administration in addition to the one left by Head of Intermediate and Middle Schools John Novick.
Assistant Principal Ruth Jurgensen's departure last spring left a vacancy within the administration that is still open, and now the school will have two holes to fill in the coming year. On November 12, Principal Dan Frank announced via email that John Novick, Head of Intermediate and Middle Schools, is leaving Parker at the end of this school year. Starting July 1, 2021, Novick will serve as the Head of School at North Park Elementary School, an independent PreK-8 school also located in Chicago.
In his eight years at Parker, Novick believes he's grown as a person and an educator through his relationships and the values of the school. "I learned more in eight years working here than I did in the previous 25," Novick said.
Novick first became aware of the opening at North Park last March, before the school closed for remote learning, and officially applied last July. "I've been an Assistant Head of School, I've been an admissions director, I've been a development director, I've been a teacher and a coach," Novick said. "Thirty-three years in, I probably have 10 years left, and so the opportunity to be a Head of School is one I didn't want to pass up."
Frank was notified in the fall that Novick was in the process of applying. After a round of in-person interviews and socially-distanced campus visits as a finalist, Novick was officially offered the position in November.
A search committee made up of administrators and faculty, with input from the Board of Trustees, is working to find Novick's replacement, who is due to start in July. The team will likely start meeting candidates, with an interview process modified for COVID-19 protocols, in January. The job posting on Parker's websites says the school is "seeking a dynamic progressive education leader with strong administrative experience and demonstrated commitment to diversity, equity and inclusion to be our next Head of Intermediate and Middle Schools."
Though Novick is not on the committee, he will meet and converse with candidates and eventually help facilitate their transition to Parker. "I just think you should run through the tape," Novick said. "The school has given me a lot, and I owe it to the school. But there'll be a transition process at some point, where I'll need to spend some time with the new incoming Intermediate and Middle School Head so that they have some knowledge from my vantage point and they do what they want with it."
Novick's transition to North Park has already begun, as he is updated by their outgoing Head of School, Dr. Randy Needlman, along with their Board of Trustees, on the operational and strategic goals of the school.
Novick noted that North Park is both smaller and younger than Parker, starting in a church basement when former Chicago Public Schools parents wanted a more "creative education" for their children. Though Parker and North Park have their own distinct cultures, Novick believes they share similar values. "It's important to North Park that kids leave the school prepared to have a broader impact on their school community, so the learning isn't just for their own personal success," Novick said. "That resonates really well with Parker's mission."
The search to fill Former Assistant Principal Ruth Jurgensen's spot is also ongoing, meaning there are two vacancies in the administration that need to be filled. "We just opened ourselves up to that opportunity," Frank said. "We find really excellent educational leaders, and we'll do it again."
Frank has confidence that this turnover won't adversely impact continuity within the administration but instead will help them examine their current approaches. "It's so important for any institution, and particularly one like Parker with a number of us who have been here for a long time, to appreciate what new and fresh eyes on the scene can bring," Frank said.
Though Frank believes both searches present strategic opportunities for the school as Parker visualizes their long-term future, he expressed appreciation for Novick as his colleague. Frank described Novick as someone with gifts of what he calls the head, hand, and heart, characterizing him as "warm, earnest, curious, intelligent, practical, self-reflective. well organized, very fluid, easy writer, excellent editor, and always trying to see what could help."
In his time at Parker, Novick has completed a number of projects that Frank outlined in his email to the school community, though he emphasized none were accomplished by him alone. "Every single one of them really required an entire team of people, whether it's a department or group of colleagues in the Intermediate and Middle School or my admin colleagues, and were often informed by students," Novick said.
In his eight years at Parker, Novick expanded extracurriculars in his division by helping launch the Intermediate and Middle School Dean of Student Life position, now held by Traveres White. He developed academics by increasing Spanish instruction in the intermediate school and re-organizing the eighth grade Math department to include an accelerated track. Along with the Middle School leadership team, he developed the "Special Topics" program that educates on social-emotional learning, covering topics such as mental health.
Frank noted that Novick also helped in "tripling the number of faculty and staff of color working in grades four through eight," according to the email.
Novick views his work integrating "Diversity, Equity, and Inclusion" into the curriculum as one on-going project he hopes to continue working on before his departure, noting that he believes his own cultural competency and sense of racial identity as a white man have grown during his time at Parker. "We launched a new Intermediate School program for heritage speakers of Spanish that goes live next Wednesday," Novick said. "Just last year, we launched a new Asian Asian-American Alliance group. This year, we launched an affinity group for Black African-Americans in the Middle School."
To continue that work, Novick hopes Parker hires someone who can be their authentic self and isn't a carbon copy of him. "Is it somebody who has philosophical compatibility with the school's mission? Do they really believe the needs of society determine the work of the school? Do they really believe in the key tenets of progressive ed –social-emotional learning, cultural competency, intellectual engagement that's inspirational on some level?"
Frank expressed gratitude for Novick's contributions and his commitment to Parker's philosophy, as well for the team of faculty he leaves behind. "The colleagues who are in the Intermediate and Middle Schools are all really talented educators, caring people, and they will provide the real strength of continuity as we move forward," Frank said. "I'm very grateful to them for everything they've done and will be doing as we search for a new Intermediate and Middle School Head and then welcome and orient that person to join the great parade."
About the Writer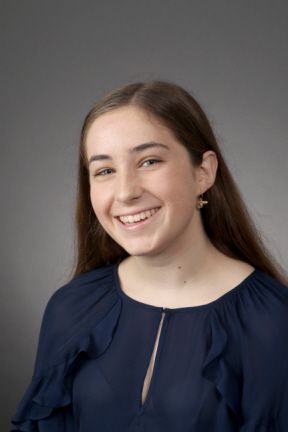 Tess Wayland, Managing Editor
Tess Wayland is a junior in her third year on the staff of "The Weekly." This year, she will be serving as the Managing Editor and has previously served...