Locked Out Of The House
Pritzker Announces Statewide School Closure For Rest Of School Year
After removing his face mask at his daily press conference, Parker parent and Governor J.B. Pritzker announced that students will not be returning to school for the remainder of the year. In-class learning will be suspended, though Pritzker emphasized the value of distance learning and began to outline plans for adapting curriculums state-wide.
Pritzker was joined by the Illinois State Board of Education (ISBE) superintendent, Dr. Carmen Ayala, as he outlined the day of a life of the 2 million students in Illinois before officially announcing the closure. 
"That routine is a source of joy for so many, but it also opens up a nearly limitless opportunity for potential COVID-19 infection in a time when our healthcare workers, our researchers, our scientists, and our first responders need us to bend the curve downward," Pritzker said. "Therefore I am suspending in-person learning in schools for the remainder of the 2019-2020 school year."
Pritzker's science continues to show that social distancing is a necessity. According to a medical briefing that followed the announcement from Dr. Ngozi Ezike, April 17 marked Illinois' largest number of new cases in a single day – 1,842 – to date. 
While the decision seemed inevitable to many inside the Parker community, Pritzker said it was not a choice he made lightly, turning to science first and foremost as his guide. "How do we save the most lives during this very difficult time? The answer to that question leaves us with only one path forward."
Chicago Mayor Lori Lightfoot initially closed schools through March 30, though the date has since been extended until April 30 by Pritzker. On March 13, Parker canceled classes through March 30, extending their dates along with the state in the past month.
Parker's Class Day MX was scheduled for June 4 and the Class of 2021 Commencement for June 6. With a year-long closure, Parker students will have been out of school for 14 weeks, with 13 of those weeks including online classes. According to reporting from WBEZ, Parker students will be among the 200,000 private school students affected by the order.
The announcement comes after hints from Lightfoot and Illinois Deputy Governor Jesse Ruiz that Pritzker was likely to shut down schools sometime this week. Schools had already been closed through the end of the year in many nearby states, including Indiana, Michigan, Missouri, and, most recently, Wisconsin. 
Lightfoot anticipated the closure and is in agreement with Pritzker, though at a press conference she mentioned that she did not want to give away any details about the announcement, calling it "a little bit more nuanced" than some news sources currently reflect.
Pritzker specified those nuances. First, he outlined his plans for an executive order to change the licensing requirement for student-teachers, so hiring is not impacted down the line. He also spoke about the $569 million in federal funding for Pre-K through 12 schools Illinois received as part of the Coronavirus Aid Relief Act, which Pritzker will use to help teachers adapt to virtual learning and to continue to provide meals to affected students. Funding will be distributed based on the number of low-income students per district. 
The ISBE guidelines for grading remain the same, as of the press conference. "Any grades, given during this pandemic reflect the unprecedented circumstances in which students are attempting to continue their studies," Pritzker said. "Grades should deliver feedback and not be used as a tool for compliance." 
Head of Upper School Justin Brandon and Head of Intermediate and Middle Schools John Novick released an updated remote learning grading policy shortly after Pritzker's announcement. The policy remains largely the same as the official ISBE guidance. Parker will use letter grades, but "in almost all instances" students' grades will not drop. However, an addition to the policy states that a "student's final grade can be negatively impacted if they are not engaged in their classes."
Michelle Smith, alderman of the 43rd ward where Parker is located, has been sending out frequent updates on Chicago's COVID-19 decisions. Though Smith has not yet released a statement on the recent closure, her newsletter can be accessed here.
Principal Dan Frank sent out an email shortly after Pritzker's announcement, outlining a path forward. The school will continue oversight of the remote learning program, take feedback from constituent groups, and support community members with "heartfelt adherence to our core values of respect, dignity and inclusion."
Frank also noted that the school will make decisions on "how–not if–" the end-of-year celebrations and traditions that will not be able to take place as planned. It's a question of how, not if, these events happen. The senior grade chair team, made up of parents to the Class of 2021, has been sending out a few "Senior Shout Outs" each day that celebrate individual members of the grade. Seniors were also sent packages of Insomnia Cookies that came along with a note of encouragement and support.
"As nice as it is, it's never going to replace what we would have had," senior Isabella Gomez-Barrientos said. "Unless we get our graduation, our prom, our senior ditch day, I don't think anything is going to amount to what is gone."
Gomez-Barrientos has been at Parker since junior kindergarten and has been looking forward to senior traditions for 14 years. "As terrible as everything is, how people are dying, and some people aren't even able to say goodbye, it still really sucks being a senior," Gomez-Barrientos said. "There are things I waited to do until my senior year, classes I wanted to take, Cookies that I wanted to plan, my senior choir concert. None of that is happening anymore and I feel like a fool for waiting until my senior year, but how was I supposed to know? I feel kind of scummed. It's just sad, really sad."
While seniors at Parker are missing out on important landmarks of their high school experience, they aren't the only students missing out citywide. CPS schools just began their virtual programming on Monday. As a private school, Parker was not affected by the Chicago Teachers Union strike in October, where CPS students lost 11 days of instruction. 
Pritzker addressed high school seniors directly, acknowledging their loss. "I know you're feeling sad about missing the rituals of senior prom, and senior pranks senior nights and of course graduation," Pritzker said. "Hear it from me, as your governor. There's room for you to feel all those things, big and small, you will get through this too. You will talk about this for the rest of your lives. And you will go on to do amazing things. I am very, very proud of you."
Frank echoed his sentiments via email. "At Parker, school life has always meant being together to share events and life markers in a shared public space. There is a great deal for us all to mourn. There is also a great deal of opportunity for us to design a healthy, hopeful set of responses to the physical distancing that now governs our lives. We may not be in Parker, but Parker is in us. Let that spirit guide us forward in the best interests of each and all who are inside and outside of our community"
This is a developing story. Check back for updates. Tweets from Governor Pritzker regarding the closure can be found at this link.
About the Writer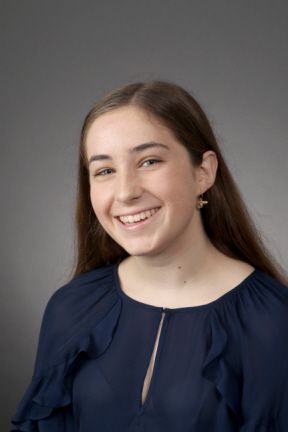 Tess Wayland, Managing Editor
Tess Wayland is a junior in her third year on the staff of "The Weekly." This year, she will be serving as the Managing Editor and has previously served...