Mask-etball
Parker Upper School Basketball Season Postponed due to COVID-19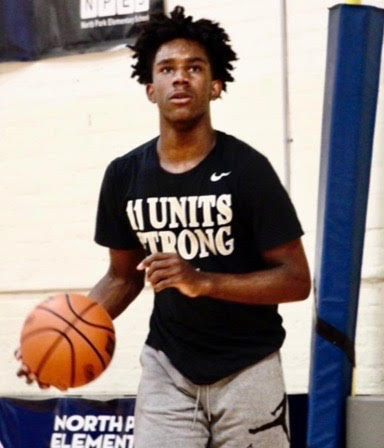 On Friday, December 13, 2019, students, parents, alumni, and fans all entered the DePaul McGrath-Phillips Arena for the annual "White Out Game," decked out in blue and white apparel, holding signs, and cheering on the two Parker basketball teams that played that evening. This Parker-beloved event will not occur on Friday, December 11, 2020, as previously scheduled. Due to COVID-19, the basketball season has been put "on pause" until further notice.
According to Director of Athletics Bobby Starks, the National Federation of State High School Associations (NFHS) categorized each sport in a level of risk, from "low-risk," to "medium-risk," to "high-risk," each rank determining at what condition athletes could practice and play. From there, the Illinois High School Organization (IHSA) created guidelines for each sport. For the six fall sports that Parker students participate in (tennis, golf, cross country, field hockey, soccer, and volleyball), three of them were deemed "low-risk" — non-contact sports tennis, golf, and cross country — allowing those athletes to hold non-contact practice, intra-team scrimmages, and intra-conference or intra-league play. However, field hockey, soccer, and volleyball were all deemed "medium-risk" and have been postponed.
Parker's Upper School winter sports (boys and girls basketball) normally begin at the end of October or early November, and this year, were supposed to start on November 16. Initially, basketball was ranked a "medium-risk" sport, meaning that teams could hold non-contact practices and intra-team scrimmages but could not compete against other teams. However, with the spike of COVID-19 cases in October, on October 27, Illinois Governor J.B. Pritzker deemed basketball a "high-risk" sport and put the sport "on hold."
Against Pritzker's guidelines, the ISHA announced on October 28 that basketball would still take place on November 16, and individual schools could decide if they wanted to follow the IHSA or Pritzker. On November 11, Starks announced through email that the basketball season would begin on November 30, holding only non-contact practices. 
"Safety is the number one issue for us," Starks said. "We've always said we are going to follow the science. We are going to follow our city and state mandates."
However, shortly after this decision, Pritzker ordered a statewide stay-at-home advisory, including "Tier 3 Resurgence Mitigation," on November 17, in response to the new wave of cases. On November 19, the IHSA paused all winter sports and activities, in response to Pritzker.
"As a result of the new guidance from the Governor's office and the IHSA, all Illinois high school athletic programs, including Parker's, are postponed until further notice," the email from Starks said, on November 20.
Junior and Varsity Girls Basketball Captain Elsie Rattner is disappointed but understanding of the postponement, noting the aspects of basketball that make it dangerous to play: sharing one ball, playing inside, and being a contact-oriented sport. "It's expected, and I think it's the right decision health wise," Rattner said. "Obviously I'd like to get to play because that leaves me with only one more year. I definitely feel bad for the seniors." 
Senior and Varsity Boys Basketball Captain Elliot Landolt agrees. "Obviously, it's sad," Landolt said. "As a four year senior this was kind of my year to be on top and to be in a position of leadership was an honor. I've really wanted to do my teammates proud, and I think that given the circumstances, it's really difficult because it's hard to prove yourself when you are not in the room with these people."
On December 14 the IHSA is holding a board meeting to reevaluate the state of winter sports. However, one issue that arises for athletes during the pandemic is the potential overlap of postponed sports. Starks also noted the potential overlap with sports seasons for travel athletes. "For the greater good of everybody just giving folks the opportunity to play this year they had to make that tough decision," Starks said regarding the choice of the IHSA to not push basketball to the spring. "There's not enough calendar room to push it. If basketball moves to another season, it really complicates things."
Rattner, a three-season athlete, is also concerned about the potential conflict of overlap of sports. "I don't think it's fair to make people choose," Rattner said. "Especially since basketball is such a small team already."
Additionally, Starks, Rattner, and Landolt all noted the impact of this decision on the student body. "There's the social aspects and benefits that you receive being in school, having those social interactions, it's the same thing for after school and extracurricular," Starks said. "Kids aren't getting that social interaction… Nothing beats coming to practice, sweating, and having fun with your teammates everyday, making those connections."
Rattner agrees. "I've noticed a huge difference in my work ethic," she said. "Without having sports and something to channel my energy into and getting the mental break of getting some sort of workout in or some sort of exercise in definitely is impacting my focus."
Rattner and Landolt are both feeling the impact of not having a "White Out Game" this year.
"Not having that excitement really gets rid of something to look forward to which is needed in times like this," Rattner said. Landolt agreed, especially noting that the excitement around the "White Out Game" is not only about the game but the activities surrounding it, including excitement videos, wearing jerseys to school, and the general energy of the community.
Although basketball will not occur in its usual winter schedule, Starks is hopeful that the season can take place later. "Hopefully we are able, maybe in January, maybe in February, we are able to get back on the court," Starks said. "The minute we are able to get back and have practices, we are going to be working hard to do so in the safest way possible."
Even though the season may eventually occur, Landolt believes it may not be the same as normal. "There is not going to be a single team that is at the competitive level that they would be given the regular season," Landolt said. "It's difficult to stay in shape, it's difficult to play basketball right now…You're still going to play teams that are better or worse than you. You're still going to have competitive matches, it just won't be at the level that might be expected in a regular season."
In the meantime, Starks is hoping to engage the teams through Zoom meetings as much as possible and is hopeful for eventually holding in-person activities. "I'm hopeful that we can provide some athletic opportunities in person," Starks said. "If we can do that, I would be so excited."
About the Writer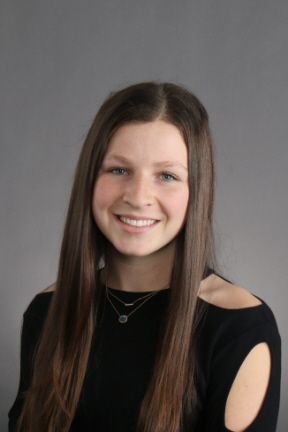 Julia Marks, Editor-in-Chief
Julia Marks is a senior and is thrilled to be serving as Editor-in-Chief for her fourth and final year on the staff of "The Weekly." She has previously...