Spreading Sweetness
Random Acts of Kindness Gives Out Valentine's Day Candy, Hosts Other Events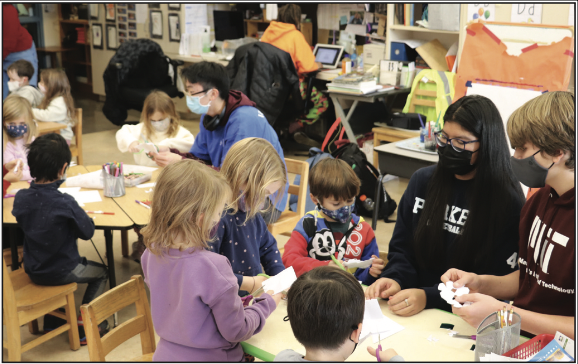 The Random Acts of Kindness Club (RAK) has held many events for the Parker community this year. RAK, as its name suggests, intermittently holds events throughout the year that bring out kindness. For example, earlier in the year, they made posters for the seniors to put throughout the school during a stressful period of them making their college applications.
Junior Hudson Lin is one of the RAK heads and is passionate about the club. Lin came to Parker in his sophomore year and was immediately interested in RAK. 
"Right when the school year was over, I wanted to take over as one of the heads of the club," Lin said. Last year, as the school was remote until April, the club wasn't able to have as many meetings as they would have liked. This year, Lin and the rest of Random Acts of Kindness have been able to host several events such as the one on Valentine's Day.
On Monday, February 14th, RAK passed out candy to each advisory for Valentine's Day. "The idea came from my old school," Lin said. "People used to hand out chocolates, but they weren't always distributed equally." Because of this, he and the rest of RAK wanted to pass out Hershey chocolates to every advisory so that every student felt appreciated. 
The process started during their club meeting the Wednesday before Valentine's Day. RAK made hearts with a message on them that they would later tape to each bag of candy given out. The next couple of days, Mr. Bruno bought all of the candy that they would need to pass out. Lin received a list of advisories and found some friends and other volunteers to pass out their assigned bags. Lin reached out to sophomore Caroline Polsky, and she helped write the messages on the hearts and pass out the candy. 
"I wanted to do it because it would be a positive thing to do and a good thing for the community," Polsky said. 
Every member was assigned four advisories, and each passed the candy out to them during the lunch period before advisory. Lin says that advisors and students were appreciative of the candy that was delivered to them, and that the distributors got a lot out of it as well. 
RAK is also planning events for Earth Day and Pride Week as well as other random acts through the remainder of the school year.
"There is always a certain type of serotonin that you get when helping people," Lin said.
About the Writer
Deven Gupta, Online Editor
Deven Gupta is a junior entering his second year on the "Weekly" staff. He is a member of the Parker Varsity Golf Team and of many other clubs at the school. He is very excited to run the website this year!