Storms Across Chicago
Tornado Warnings and Weather Damage Experienced Across The City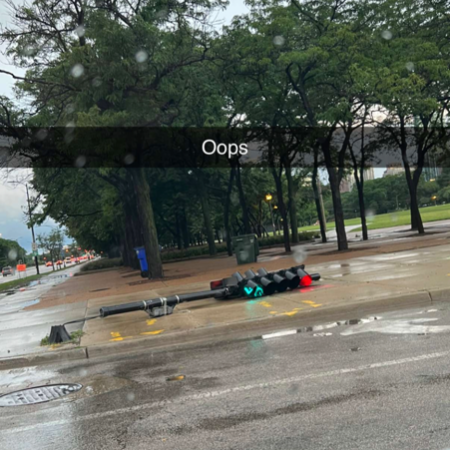 On Monday, June 13, 2022, heavy storms hit the Chicago-land area causing extensive damage and lightning. The storm passed directly over North Chicago and continued south towards Gary, Indiana. Chicago and Chicago-land Area residents experienced extreme wind gusts, heavy rain, and eerie green skies, as well as tornado sirens and mobile phone weather warnings to take necessary precautions.
Northeast suburb residents experienced heavy winds at high speeds. O'Hare International Airport experienced winds up to 84 MPH, which caused the cancellation of 94 flights and many more delays. "They [the flight crew] told us to buckle our seatbelts while the plane was parked," rising sophomore Judah Solomon said about being at the airport during the storm.
Poles, houses, and trees have been struck by lightning and knocked down causing damage to houses and cars. In Caledonia, a tornado touched down destroying property and power lines and ripping off the roofs of buildings. Many areas also experienced hail the size of eggs which caused further damage and danger.
Have you noticed storm damage in your neighborhood?
Sorry, there was an error loading this poll.
The supercell storm was predicted earlier in the afternoon to pass well north of Chicago but it changed direction a few times before eventually reaching northern Cook County and southern Dupage County. The storm is believed to have been fueled by unseasonably warm air and high cloud ceilings. The damage was not limited to the suburbs as high winds knocked over many trees on Dusable Lake Shore Drive and according to ABC7 News a Lincoln Park parking garage at Toyota of Chicago has partially collapsed due to wall damage.
During the storm, power lines were knocked out causing power outages to more than 80,000 Illinois residents. Commonwealth Eddison (Com-ed), the major electrical utility company in the area, has been responding to the outages but there is concern that many residents may be without power and air conditioning during tomorrow's expected heat wave. Chicago cooling centers are already expected to be overcrowded as some are closed due to COVID-19 and all are enforcing social distancing lowering their maximum capacity.
"A lot of the stop lights were out and some houses in our neighborhood had no power," said rising junior Ella Currie who lives in Roscoe Village.
This supercell storm is a perfect example of how weather is becoming more extreme due to climate change. The heat wave sweeping through the midwest led to conditions that allowed for this supercell to form. These destructive storms will become more common as heat waves become more prevalent. These storms are also prime examples of how living in a large city like Chicago does not make you immune to high winds and tornadoes, going against the popular myth that Chicago's skyscrapers will prevent tornadoes from forming in the city center.
About the Writer
Beckett Nikitas, Copy Editor
Beckett Nikitas is a sophomore Copy Editor in his second year writing for "The Weekly." When not writing, Beckett is a member of the Underwater Robotics Team, Model UN, and Scholastic bowl. Outside of school Beckett enjoys Film production, Skiing, and Wake Surfing. He Looks forward to an exciting and informative year of writing for "The Weekly."