Peace, Love, and County Fair
Parker's iconic fall event returns
119 years ago, the County Fair was introduced to Parker. While now the fair fills our hallways, field, and courtyard that have modernized through the century, this year's theme aims to send us back in time again. Not 119, more so around 50, County Fair's theme: "retro" encompasses the once new colorful fashion, technology, and trends ever popular during the 70s, 80s, and 90s.
The Sophomore class is traditionally in charge of the planning County Fair. This includes picking a theme, organizing activities, and acting as the County Fair "spokespeople" to utilize MX time to make County Fair announcements. While the entirety of the Sophomore class contributes and will spend time at Parker on the day of the fair, there is a smaller group selected to take on extra work. These students are referred to as "The County Fair Heads" and lead different committees that are made up by the rest of the grade. 
In order to be elected as County Fair heads, the current Sophomores had to send an email to Upper School English Teacher and Freshman Grade head, Cory Zeller, who selected them from there. 
This smaller group of 11 is led by the Sophomore Grade heads. This year the heads are Upper School Science Teacher Xiao Zhang and Upper School Computer Science Teacher Brianna Ifft, formerly they were Upper School History Teacher and Department Co-Chair Andrew Bigelow and Upper School Mathematics Teacher Victoria Lee.
The planning process for County Fair began in June of 2022 and will come to life nearly four months later. "We elected County Fair Grade heads towards the end of last school year," Ifft said. "We were kind of late because I and Mr. Zhang were determined as grade heads later in the school year. Over the summer we emailed with the County Fair heads and decided on a theme." 
"We started planning over the summer, we came up with a logo, a t-shirt, and brainstormed our theme. We go back and forth emailing with grade heads and have been meeting altogether. Everyone has a job even if they aren't a committee member or head, they have to take part in a shift." County Fair Music Stage Head, Harper Horn said. 
As County Fair Music Stage Head, Horn is in charge of creating a list of students to perform on the county fair stage. "I've been emailing/contacting music teachers and the MX people since the second week of school," Horn said. "We do a lot of voting in the grade room and get input from everyone in the grade."
County Fair is open to students of all ages as well as their parents and aims to include every grade at Parker making the planning process important and lengthy. "We started meeting after the sophomore retreat," Ifft said. "We have been meeting once a week regularly. We have around 7 smaller committees and 1 to 2 heads per committee, they meet with grade heads and things like that." 
This year's theme will be "Retro" and was decided by a vote after each student submitted two ideas. "We all submitted ideas which are put on the form for the theme and all the ideas are conducted on one form and sent out to the head," Horn said. Some of the potential themes included "Disney" and "fairytale".
County Fair is a tradition participated in by students of all grades, with activities ranging from obstacle courses, snow cone making, milkshake decorating, trivia, and games. 8th-grade student Sasha Keller has been attending County Fair since JK and looks forward to this year's events. "County fair is a long-lasting Parker tradition. I love it because I've been doing it since I was four and its a fun day to spend with everyone in the school."
About the Writer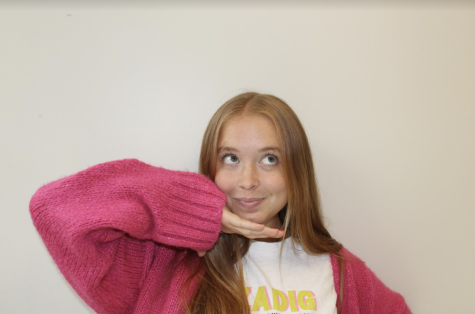 Eden Stranahan, Editor-in-Chief
Eden Stranahan is so honored to serve as Editor-in-Chief for her last year on "The Weekly" that it might come off as a little concerning. After humble beginnings as a staff writer who gave up on her first article about how Parker students spend their summers (specific, right?) because she couldn't muster up the courage to call an upperclassman, she has worked her way up through serving as a Copy Editor and Features Editor--and found the courage to talk to and somehow become an upperclassman herself. When stripped away from The Parker Weekly finals doc you can find her on both the field hockey and softball bench, engaging in riveting discussion about her weekend plans in the math wing, or alternatively walking out of Calculus with a look of extreme confusion on her face.