Grape Jam-ing Out
Advanced Choral Ensemble performs at Fourth Presbyterian Church
On Monday, April 24, members of Grape Jam performed at Fourth Presbyterian Church. Requiring an audition to join, Grape Jam is the advanced elective choral group for Parker's Upper School students. The group of young singers has been working tirelessly throughout the school year to prepare for this performance, and their efforts truly shined through. 
New to the music department this year, Justin de la Cruz has been working closely with Grape Jam. De la Cruz graduated from Depaul University with a Bachelor of Music in Music Education with a concentration in jazz voice. Since his arrival at Parker, he has created strong connections with each and every one of his choral students. 
"With Grape Jam being an auditioned group, there is already a certain level of musicianship and care that exists with these students from the get-go," De la Cruz said. "That being said, the thing I've loved most is seeing the growth that this group has made on both a musical level and in regards to how they show up for one another. Chemistry and care amongst peers translates to what they do musically, and it's been such a joy to see that happen."
This year, Grape Jam has worked on a repertoire spanning across all genres of music. Some of the pieces they sang include, Yesterday by the Beatles, a jazz standard entitled Moonglow, and a PJ Morton inspired arrangement of The Bee Gees' How Deep Is Your Love.
"A piece of music to highlight," De La Cruz said. "is Searching For a Feeling by Thirdstory; this arrangement was written by the Northwestern a cappella group "THUNK" who came in earlier to work with us."
Sharing his final regards, "These students might not remember all of the notes that they sang in high school choir, but the memories that come with making the music are what last a lifetime. I'm so incredibly proud of these students for their hard work; their show was a testament to that and I hope that they can hold onto those memories because it truly was unforgettable. Being their teacher is my absolute favorite thing and I got a lot of love for them."
The students in Grape Jam are also grateful for their choral experience in the group.
"Having the opportunity to perform at such a venue makes me realize how lucky we are," sophomore member Ellis Brown said. "Churches have been the home of singing and music for hundreds of years and I love how our sound is carried through every corner of the building."
Chicago's Fourth Presbyterian Church located in the Magnificent Mile neighborhood, has been serving the city for over 140 years. Known for its impressive Gothic-style architecture, the church features intricate stone carvings and stunning stained-glass windows. Additionally, the church is known for its commitment to social justice and community service.
Brown continued, "We [Grape Jam] have all been working incredibly hard, and this performance was a beautiful way for us to put that work to the test."
Grape Jam's audience was also in awe of the performance.
"The concert was an absolute success! The space the students sang in was magical and it's clear the students trusted each other, their director, and the music they were singing," Choral and General Music Teacher Rob Denien said. "It was truly a beautiful forty minutes of music making and storytelling. I'm so proud of the students and of de la Cruz for bringing Grape Jam to new heights this year."
Fourth Presbyterian Church was filled with beautiful music and a display of the singer's talent and dedication to their craft.
About the Writer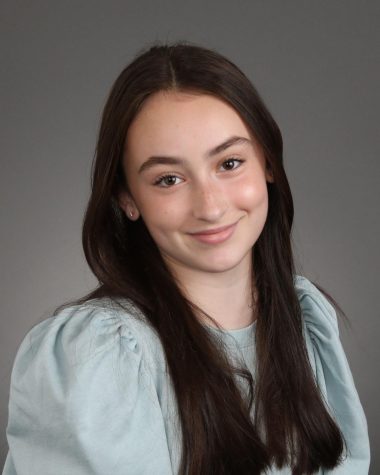 Gabrielle Silverman, Brief Writer
Gabrielle Silverman is a sophomore, and will be working as a brief writer for her first year on "The Weekly." Gabrielle also participates in Model U.N., yearbook, two Parker sports, and is the editor of "The Student Voice" for Student Government. She's excited and ready to publish informative and intriguing briefs for the 2022-2023 school year.