Going Back In Time?
Parker Reacts to Anti-Semitism On The Rise
On the morning of Saturday, October 27, anti-Semite Robert Bowers fatally shot 11 individuals in Pittsburgh's Tree of Life synagogue, surrendering to authorities soon after. He made anti-Semitic statements during the attack and targeted Jews beforehand on social media according to a federal law enforcement official. These attacks beg the question, did anti-semitism end after the Holocaust in 1945, or is it making a comeback?
Sophomore Carter Wagner reflected on the crime. "I think, past being Jewish, how you would under any situation," Wagner said. "Let's not forget, it happened right after bombs were sent to top Democrats, like directly after that, and, I mean, it's a shooting in a synagogue, in a place of worship."
Wagner also thinks that the crime wasn't very surprising. "There's a lot of unspoken anti-Semitism that still exists in our society, and I think that this was just an example of it," Wagner said. "I would say anti-Semitism is definitely more in our public image, and I think definitely white nationalists and hate are being expanded upon by the current Administration and just in general."
An example of rising anti-semitism is the "Unite the Right Rally" in Charlottesville, Virginia in August of 2017, which turned deadly when a 20-year-old Ohio man allegedly accelerated his car into a crowd of counter-protesters, killing 32-year-old Heather Heyer and leaving 19 others injured. At the rally, a group of white nationalists holding lit tiki torches marched through the campus of the University of Virginia, some chanting the Nazi-associated phrase "blood and soil."
Rabbi Amanda Greene, who works at the Chicago Sinai Congregation, where many Parker students belong, felt greatly affected by the atrocious attack in Pittsburgh. "I was horrified by the shooting in the synagogue in Pittsburgh," Greene said. "I was sad for the victims and the families and the entire community in Pittsburgh. I was sad for the Jewish people."
According to Wagner, Parker students aren't exposed to Anti-Semitism at school. "Anti-Semitism has always been a thing, and I think it's weird at Parker for people to hear about it because there's this whole idea that 50% of each grade is Jewish," Wagner said. "In reality, it's more like 35%, but I grew up in Michigan, where, one of two Jews at my school, and that's just a common thing — people not being tolerant or understanding whatsoever about Judaism. I think it's just so jarring for people at Parker because they're just so exposed to Judaism that they're just not used to (anti-Semitism)."
Wagner went on. "There's a lot of facts about hate crimes against Jews and antisemitism in general that are overlooked, like how 50% of non-violent hate crimes are against Jews, to some statistic, check me on that," Wagner said. "I think it's just so shocking and jarring for people at Parker because they're just so exposed to Judaism that they're just not used to (anti-Semitism)."
While no distinguished news organization has a percentage of non-violent hate crimes against Jews, "The Conversation"—a non-profit media outlet run by academics and professional journalists—claims that roughly 11% of hate crimes (violent and non-violent) target Jews.
Greene feels that what occurred also conflicts deeply with the beliefs of Judaism. "Judaism, especially Reform Judaism, is quite clear on gun violence prevention," Greene said. "We have so much work to do to end gun violence, and it pains me to read the news and see a new attack nearly every day."
Ever since then, the tension has affected Greene's synagogue greatly. "We've increased security, and it's so hard to want to be a welcoming place, a place people can call home, and at the same time, worry about security and feel safe," Greene said.
The attack may have saddened Greene deeply, but she has not lost her sense of hope. "Again on Friday, coming together has been inspirational and powerful," Greene said. "We need our community and our Judaism now more than ever. We will not let hate overcome love."
About the Writer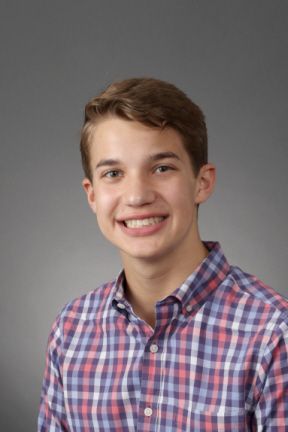 Zach Joseph, Editor-in-Chief
Zach Joseph is a senior in his fourth year on the staff of "The Weekly," and is ecstatic to be serving as an Editor-in-Chief for the 110th year of "The...