(Never) Going Solo
Parker's Influence on NYU Sociologist Eric Klinenberg '89
Bombarded with random 20th-century dates, facing nearly 400 Brown psychology students, then-college freshman and Parker alumnus Eric Klinenberg '89 sat calm and composed. As student-by-student shouted out dates, Klinenberg responded with the corresponding day of the week. The professor tested him, the teacher assistant quizzed him, and—in front of his new classmates—Klinenberg answered every question correctly. 
A day before, the professor was discussing memory and mentioned a man who knew the day of the week of every date in the 20th century. "Professor, I can do that." Students instantly swiveled their heads toward the first-semester freshman, who had remembered a 20th-century day-of-the-week formula from a George Barr McCutcheon math class at Parker. 
Nearly thirty years later, Klinenberg serves as the Professor of Sociology, Public Policy, Media, Culture, and Communication at New York University; has written seven books, including one with comedian Aziz Ansari; and still manages to score goals in Parker's alumni soccer game. 
Whether teaching in an NYU classroom, speaking on stage with Ansari, or conversing with comedian Bill Maher on "Real Time" in front of about 1.5 million viewers, Klinenberg feels Parker's influence. "I went to Parker for 14 years, and it's such a big part of who I am," Klinenberg said. "Parker helped me believe in myself, Parker helped instill in me the core values that drive my work every day: commitment to civic engagement; interest in community; passion for social justice; my love of thinking, writing, speaking, and mixing it up; and vigorous debate."
Parker teachers who influenced Klinenberg included math teacher George Barr McCutcheon and English teacher Bill Duffy. "He pushed me harder than anyone else in the school to push harder and not be satisfied with the first answers that occurred to me," Klinenberg said of Duffy. "I'll never forget writing essays for him at the beginning of British literature, which were technically sound and decently reasoned but just not interesting or surprising in a way that satisfied him. I remember over the course of the semester to be pushed harder and harder to dig inside of myself for something beyond my first-level thought." 
History teacher Marie Stone and English teacher Andy Kaplan also influenced Klinenberg. "Andy Kaplan and Marie Stone were both very special at teaching my classmates and me to believe in ourselves," Klinenberg said. "They wanted us to develop an original voice, and they wanted to make sure I was comfortable using it."
Kaplan thought highly of Klinenberg. "He was extraordinarily bright, very capable, very mature," Kaplan said. "He was also a natural in conversation and a great basketball player. What distinguished him was his willingness to experiment. His compliment to me was that it was only with my encouragement that he began to think of himself as someone who didn't just fulfill expectations but set his own expectations."
Since Klinenberg's graduation, Kaplan has engaged with Klinenberg's work and sees the influence of Parker in Klinenberg's first book, "Heat Wave: A Social Autopsy of Disaster in Chicago," about the 1995 Chicago heat wave. "It seemed to me that it was very in keeping with the social consciousness that we were always striving for in a Parker education," Kaplan said. 
Klinenberg tried to bring Parker's values to his work. In addition to writing "Heat Wave" in 2002, he wrote "Fighting for Air: The Battle to Control America's Media" in 2007 about the corporate takeover of local news; "Going Solo: The Extraordinary Rise and Surprising Appeal of Living Alone" in 2012 about the increasing popularity of living alone; "Palaces for the People" in 2018, in which he included both the quote above the stage in Parker's auditorium and a section about progressive education proponent John Dewey; and "Modern Romance: An Investigation," a book he co-wrote with comedian Aziz Ansari.
"I had been a big Aziz Ansari fan," Klinenberg said, "and, one day, I got a call from the publisher asking me if I'd be interested in coming to their offices to meet Aziz Ansari and talk about writing a book with him. We really got along well and enjoyed working with each other."
Ansari and Klinenberg spent the next couple of years working together. "We wound up touring the country together, and—when you're on stage working with someone like that—you've got to learn to speak differently," Klinenberg said, referring to Ansari's comedy-driven approach to public speaking. "Fortunately, I had grown up two blocks away from the Second City, so—all of my life—I was watching comedy, but—hearing him talk was a whole new level."
Klinenberg traces his skill and comfort in public speaking—which has helped him on tour with Ansari, on television with Maher, and in the classroom at NYU—back to Parker. "The first times I spoke in public were on the stage at Morning Ex and those were very special opportunities," Klinenberg said. "I don't see how I would have become who I am without Parker."
About the Writer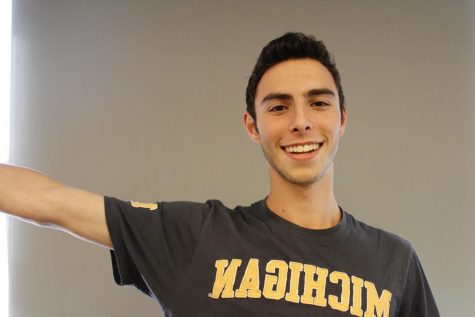 Ian Shayne, Editor-in-Chief
Ian Shayne is a senior and stoked to serve as Editor-in-Chief this year. As a junior, he served as Online Co-Editor; as a sophomore, Domestic Political...