Governor J.B. Pritzker Issues Stay At Home Order
On Friday at 3 pm, during a press conference that was televised across all Illinois news stations, Parker parent and Governor J.B. Pritzker announced an order for Illinois residents to stay in their homes. The order is set to begin Saturday evening at 5 pm and last until Tuesday April 7th. The governor stated that after talking to many experts, having as many people inside of their homes as possible is the best way to stop the rapid increase of COVID-19.
This order, however, as the governor noted, does not change much to the current lives of Illinoisans who have been practicing social distancing this past week. People can leave their homes for necessary activities such as going to the grocery store, pharmacy, gas station, etc.  In addition, outdoor exposure such as going for a run, hike, or walking your dogs is still permitted. The CTA will continue to run and airports will remain open.
The only businesses that are to remain open are what the governor called "essential businesses": ones that people rely on in their everyday lives. All non-essential businesses, such as local and family-owned ones, are to shut down their locations by 5 pm on Saturday evening and the governor encouraged as many people as possible to work from home if they are able. 
 While many Parker students were already practicing social distancing and not leaving their homes often, this order might come as a harsh change to some. "I fully recognize that in some cases, I am choosing between saving people's lives and saving people's livelihoods," Governor Pritzker said. "But ultimately, you can't have a livelihood if you don't have a life."
According to Chicago Mayor Lori Lightfoot, this order aims at limiting human contact for the goal of evening out the curve, as countries such as Japan, South Korea, and Singapore have successfully done. The goal is to keep as many people inside of their homes as possible, however, it will not be enforced. "I want to be clear. This is not a lockdown or martial law," Mayor Lightfoot said.
Pritzker mentioned early on in the conference that there would be no way of monitoring whether people are following the order except honor. He said, "to be honest, we don't have the resources, the capacity, or the desire to police every individual's behavior." He stated that the only way this will work is if everyone works together, and the sooner everyone cooperates, the sooner reality returns. In the meantime, COVID-19 testing is expanding throughout the state and more quarantine locations are being built.
Once Pritzker and Lightfoot had concluded their speeches, Dr. Emily Landon from the University of Chicago medicine was brought to the podium to provide an expert opinion. "This is the only way forward," she said. "This virus is unforgiving. It spreads before you know you have it." 
She dismissed the claim that eighty percent of those affected with the virus are healthy within a week by diverting the attention to the twenty percent that require support to fight the virus. She reminded the viewers that hospitals still have no vaccine to give to patients that will cure the virus.
Additional insight Landon provided at the press conference came when she spoke about the deceiving numbers in the news. "The numbers you see today in the news are the people that got sick a week ago," she said. "And there are still people who got sick today who haven't even noticed that they've been sick yet. They picked up the virus, and it will take a week to see that show in our numbers." 
She ended telling all the people who are spending their days sitting on their couch and watching Netflix to continue doing just that, because that is what's going to slow the spread of the virus. Her final remark was a call for social distancing and to stay home as much as possible, because in over a week we may see the rate of increase slow down. "A successful shelter in place means that you're going to feel like it was all for nothing," she said. "And you'd be right. Because nothing means that nothing happened to your family. And that's what we're going for here." 
About the Writer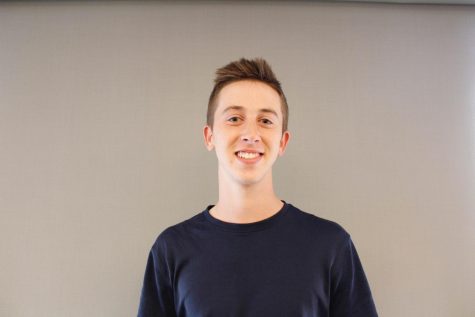 Nick Skok, Online Editor
Nick Skok is a junior in his third year on "The Weekly." He is currently serving as an Online Editor and has previously served as a Copy Editor and Staff...