A Parker Sermon
Father Pfleger Speaks to Parker Students
Father Michael Pfleger, famed activist and pastor of Chicago's Saint Sabina Catholic Church, spoke to the junior class in the Harris Center on the morning of Wednesday, November 28th. Pfleger was invited to serve as the annual Henry David Thoreau Speaker as a component of the Civic Lab program.
In order to qualify for an invitation to be the Thoreau Speaker, a person must have been arrested at some point in their life for an act of civil disobedience. The speaker's role is to explain to students, from personal experience, the ways in which civil disobedience — a method Thoreau preached — can benefit society and to impel students to fight for social change.
Pfleger, 69, has been a leader in social justice movements in Chicago for the last several decades. Pfleger has been a pastor at Saint Sabina Catholic Church since 1981 and indicates that his services are open to all people regardless of race, religion, socioeconomic status, or sexual orientation. His church resides in the predominately African-American neighborhood of Auburn Gresham.
Pfleger told the juniors that the first spark of inspiration as an adolescent occurred in his junior year when he heard that the Reverend Martin Luther King Jr. was coming to speak in Chicago, and Pfleger traveled with his friends to see him and hear him speak.
Pfleger remembered strong support at the speech but also a loud and violent opposition. King's persistence to speak despite the threats of violence inspired him to pursue his own path of social justice.
As the junior class and many staff members listened, Pfleger recounted the stories of his efforts to seek justice in Chicago. He talked about painting over billboards that disproportionately advertised tobacco and alcohol to minors in low-income neighborhoods and fully blocking a busy highway in Chicago to protest the shootings of unarmed black men. He also discussed the racial segregation in Chicago and other systemic problems.
Upper School History Teacher Andrew Bigelow reflected on the meaningfulness of the message to high schoolers. "The impact that he has is that if you are gonna make a change," Bigelow said, "you have to be willing to step on some shaky ground. The ideas are that we are gonna use this as a stepping stone to becoming a social activist and allow them to become agents of change in America."
In his final message, Pfleger talked about the importance of focusing on real and current problems in Chicago. He condemned unawareness to problems in Chicago because of Parker students' proximity to its issues.
Pfleger explained how many Chicagoans seem to think that their city's problems are happening miles away, when they may be just five minutes away from their house. He discussed harmful actions coming from the White House and how students should not view the Trump Administration's lack of respect for the truth and lack of condemnation after events like Charlottesville as normal. He challenged the students to give up their pursuit of financial success and focus on fixing the hardest issues of the time.
About the Writer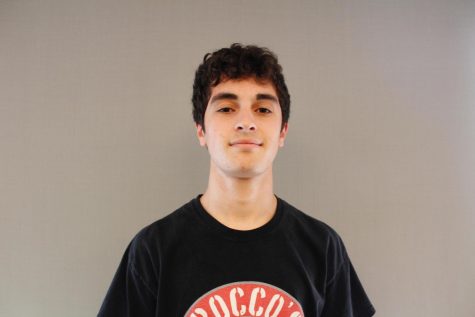 Jack Laser, Political Liaison
Jack Laser is a Political Liason, who has worked for four years on the staff of "The Weekly" as a Staff Writer and a Brief Writer. In addition to writing...